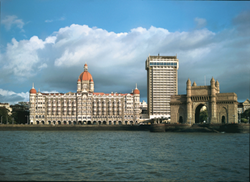 Mumbai, India (PRWEB) June 26, 2014
This December, The Taj Group invites guests on a bespoke journey to live like a royal with the 'Majesty of India' package – a privately guided trip designed exclusively for American Express Platinum and Centurion members from December 5 – 12, 2014. Exploring the magical cities of Mumbai, Jodhpur and Jaipur will be an immerse journey into the history, sights and experiences of the royal palaces.
The eight-day itinerary begins in the land of Bollywood – Mumbai, with the iconic Taj Mahal Palace to call home. Spend the day exploring historic landmarks across the city, including a private tour of the famous Bhau Daji Laud museum with the Museum Director. Ease away the day's fatigue with a signature treatment at Jiva Spa, where the ancient traditions of holistic rejuvenation embrace a deep understanding of mind, body and spirit – the perfect pick-me-up before attending the evening's Bollywood soiree. Hosted by DEPARTURES Editor in Chief Richard David Story, evening cocktails and dinner will be served at a private home with a stunning terrace overlooking the city's harbor and museum. Mix and mingle with an eclectic gathering of Mumbai society for a rare insider's glimpse into this boisterous yet enigmatic city.
From the bustling vibe of Mumbai, be transported to a city untouched by time – Jodhpur. Breathe in the beauty of one of India's erstwhile princely states and experience the wonder of the Umaid Bhavan Palace as it catapults you back in time. One of the world's largest private residences, the palace is a golden-hued desert sandstone monument set amidst acres of verdant gardens. Take a dip in the ethereal indoor pool once meant only for the Maharani, or enjoy an exhilarating drive through the city in a vintage car, accompanied by your royal butler. After a personal consult on spirituality with the Jiva Spa doctor and Buddhist scholar Mr. Shantum Seth, embark on a specially curated tour of the magnificent Mehrangarh Fort followed by a private dinner with the Maharaja.
End this magical journey with an escape to the 'Land Of Kings' – Jaipur, where an exquisite experience awaits you at the Rambagh Palace and Jai Mahal Palace. Experience the life of maharajas as you take an elephant ride up to the historic Amer Fort, and spend an enlightening afternoon with acclaimed writer and historian William Dalrymple. Bask in the magic of a breathtaking sunset over cocktails and a grand dinner with Mr. Raymond Bickson, Managing Director of the Taj Group, for interesting insights into the longstanding love affair between Taj and India.
With 'The Majesty of India' package, guests will delight in a heady mix of modern and traditional India: a complex and vibrant mix of people and cultures, including a wink at Bollywood and visits to local bazaars, legendary restaurants and relaxing spas, with expert historians, curators and guides to provide priceless insights throughout the journey.
About Taj Hotels Resorts and Palaces
Established in 1901, Taj Hotels Resorts and Palaces is one of Asia's largest and finest group of hotels, comprising 108 hotels in 63 locations across India with an additional 17 international hotels in the Maldives, Malaysia, Australia, UK, USA, Bhutan, Sri Lanka, Africa and the Middle East. From world-renowned landmarks to modern business hotels, idyllic beach resorts to authentic Grand Palaces, each Taj hotel offers an unrivaled fusion of warm Indian hospitality, world-class service and modern luxury. For over a century, The Taj Mahal Palace, Mumbai, the iconic flagship has set a benchmark for fine living with exquisite refinement, inventiveness and warmth. Taj Hotels Resorts and Palaces is part of the Tata Group, India's premier business house. For further information, visit http://www.tajhotels.com.
Follow Taj Hotels Resorts and Palaces on Twitter, Facebook and Instagram.