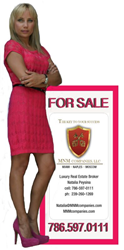 miami, fl (PRWEB) June 26, 2014
MNM Companies, a leading property management and real estate firm that services properties from all around the country, most especially Miami, Naples, and Moscow, announces the availability of Hyde Resort & Residences. Interested customers can contact MNM Companies for more information, as well as to purchase units within the coveted real estate hub.
Hyde Beach is a resort-style luxury condominium, located at 4111 South Ocean Drive, Hollywood Beach, FL. The luxury building stretches 41 floors high, and features 407 fully furnished residences, that include one-, two-, and three-bedroom condominiums. Currently, interested residents can sign up for a waiting list on the site's homepage.
The developer of the condominiums is the Related Group and Fortune International, and the architects are Cohen, Freedman Encinosa & Associate Architects. In addition, the interior designer responsible for the aesthetics of the residencies is Debra Aguiar. Together, all three have collaborated to create one of the most high-end, in-demand properties on the shoreline of the Atlantic Ocean on the southern tip of Florida.
Interested residents walking into one of the model condominiums will be met with breathtaking views, with floor-to-ceiling sliding glass doors that overlook the waters of the Atlantic Ocean. Each condominium also offers expansive gourmet kitchens, which are perfect for whipping up meals for one or for a crowd during a hosted cocktail hour. Residents can also indulge in concierge services, housekeeping amenities, room service, and semi-private elevator access (when applicable).
For more information about Hyde Resort & Residences or MNM Companies' property management division, contact Natalia at 1- 786-597-0111 or Natalia(at)MNMcompanies(dot)com.
About MNM Companies
MNM Companies has been providing exceptional real estate and property management services to the Miami and Moscow, Russia areas for over nine years and has recently expanded to cover Naples, Florida. The company, founded by Natalia Peysina, offers its clients a full suite.