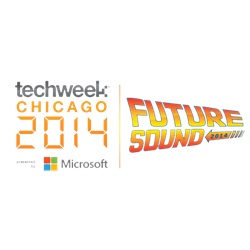 Chicago, IL (PRWEB) June 26, 2014
The Future Sound Music Festival, a unique musical experience highlighting the intersection between music and technology, will make its debut during Techweek Chicago on June 26-28, 2014 at the picturesque South Drive riverfront venue at the Merchandise Mart. With beautiful sweeping views of city, the festival is the first to occur at the location, making it an ideal site to showcase innovative musical artistry. The inaugural festival is presented by Techweek Chicago, which celebrates and enables emerging innovation ecosystems. In line with this mission, the Future Sound Music Festival will emphasize technology's role in the future of music and spotlight top talent capitalizing on this unique intersection.
Recently announced headliner Eric Prydz will take to the Jack Daniel's stage at 8:30pm on Thursday, June 26. Taking a similar headlining role that then-up-and-comer Calvin Harris held at Techweek Chicago in 2013, Prydz brings a bold musical agenda and an unrivalled ability to combine commercial success with underground notoriety allowing for worldwide recognition. Prydz's performance is preceded by emerging artists NORdjs and Jetlag who will kick off the night at 6:30pm.
As the Future Sound Music Festival continues into Friday, June 27, attendees can expect engaging performances from rising stars The Giving Tree Band and Panama Wedding, who take the stage at 6:15pm and 7:15pm respectively. With his signature atmospheric electro-pop style, Friday night headliner St. Lucia will create an evocative experience for the audience through his dreamy, shimmering synths.
As the festival draws to a close on Saturday, June 28, acts will include: Winner of the "Battle of the DJs" competition, Hans Bitburger, Kody Madro, and The Runners, all beginning at 6pm. Closing out the inaugural Future Sound Music Festival with a bang will be Grammy-nominated Producer and DJ, Morgan Page, whose groundbreaking and fully immersive 3-D performance will begin at 8:30pm.
"We are excited to, quite literally, put the intersection of music and technology center stage as we introduce Chicago to the first annual Future Sound Music Festival presented by Techweek," said Iain Shovlin, Chairman of The Gathering Group. "The convergence of outstanding musical artists during this 3-day festival will highlight the incredible technology that is not only currently powering musical innovation, but will also be the basis of the future of music as a whole."
Sponsors of the Future Sound Music Festival include: Jack Daniel's, Lagunitas, Deep Eddy Vodka, Red Bull, Boxed Water and Honest Tea.
To learn more or purchase tickets, visit http://techweek.com/chicago/register/.
###
ABOUT THE GATHERING GROUP
The Gathering Group's mission is to revolutionize the live event and festival experience by embracing technology. In the era of online connections and social media, finding time to connect offline can be can be challenging. The Gathering Group aims to tie interactions across all mediums by leveraging social media to develop unique and powerful gatherings. Our passion is producing world-class events that transcend the typical and exceed the expected.
ABOUT TECHWEEK
Techweek is a seven-day conference, expo and festival where entrepreneurs, tech visionaries and thought leaders meet to enable the innovation ecosystem in the cities of Chicago, Detroit, Los Angeles, Miami and New York. Techweek curates compelling programming that allows a global spotlight to shine on each ecosystem and its leaders. Past speakers include Rahm Emanuel (Mayor, Chicago), Travis Kalanick (CEO, Uber), Craig Newmark (Founder, Craigslist), Barney Harford (CEO, Orbitz), Dan Gilbert (Founder, Quicken Loans), Peter Diamandis (Founder, X PRIZE) and Pitbull (World renowned musician). The Techweek expo has gathered more than 200 sponsors, including companies such as Google, Groupon, Microsoft, Motorola, Redbox, Uber and Wordpress. The after-parties at Techweek have become famous for events like the Bootlegger's Ball, attracting sports teams such as Stanley Cup Champions the Chicago Blackhawks and for hosting entertainers like Calvin Harris.