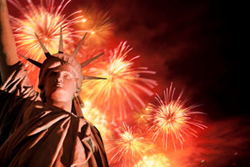 San Francisco, Calif. (PRWEB) June 26, 2014
Independence Day fireworks are a great American tradition – so why stay home to watch the festivities? The team at Viator, the leading resource for researching and booking tours and activities worldwide, has compiled a list of the top tours and activities offering some of the remarkable vantage points to watch the sky sparkle this 4th of July. And with the fourth falling on a Friday this year, it's also a great time to take advantage of the long weekend to explore some of the country's top destinations for paying tribute to American history.
Catch America's most spectacular fireworks displays in New York City and San Francisco:

San Francisco: Toast America's independence on Viator's San Francisco 4th of July Dinner Cruise, complete with a gourmet four-course dinner and open bar, live music and entertainment, views of famous landmarks like the Golden Gate Bridge, and of course an incredible fireworks show. Or skip right ahead to the fireworks and book a spot on the popular San Francisco 4th of July Fireworks Cruise – sure to sell out so book early.
New York City: Macy's 4th of July fireworks are a one-of-a-kind spectacle, and a cruise is one way to enjoy front-row access with unbeatable views of the famous pyrotechnics. New on Viator, the Viator Exclusive: Fourth of July Fireworks Cruise with Lobster Dinner includes a seafood buffet with lobster bake and a night of dancing, or opt for the New York 4th of July Dinner Cruise featuring a gourmet five-course meal. Those looking to spend the entire day celebrating will enjoy the Ultimate NYC 4th of July Experience which includes a BBQ lunch, coach tour of Lower Manhattan and evening cruise onboard a deluxe yacht with a dinner buffet. For a unique, once-in-a-lifetime vantage point of New York City's famous July 4th fireworks, Viator's newest product, the July 4th VIP Exclusive: Fireworks from the Empire State Building's Observation Deck, can't be beaten.
Salute the Nation in DC, Philadelphia and Boston
Washington, DC: Where better in America to spend the July 4th holiday than in the nation's capital? One of Viator's newest tours, the Exclusive Halls of Congress Walking Tour, includes a meeting with a congressional aide and special skip-the-line access to some of the US Capitol's most important sites closed off to regular visitors, including Thomas Jefferson's reading room and the original Supreme Court building. The Viator VIP: Best of DC also includes priority entrance to the US Capitol along with a guided tour that visits the outside the White House, Washington Monument, Lincoln Memorial and Vietnam Veterans Memorial plus a boxed lunch and Potomac River cruise. Or take a day trip to Gettysburg to witness the site of the largest battle ever fought on US soil.
Philadelphia: The July 4th holiday weekend is a perfect time to take a journey through the "Birthplace of Democracy" where the Declaration of Independence and the United States Constitution were created. Viator's Constitutional Walking Tour of Philadelphia stops at more than 20 historic sites including the Liberty Bell and Independence Hall, and the Founding Fathers Tour visits the former home of George Washington and John Adams, Liberty Bell, Curtis Center, Washington Square, the Tomb of the Unknown Soldier and Independence National Park.
Boston: In addition to its rich history in establishing the US, Boston is also known for the variety of festivals it hosts including Harborfest, a six-day long festival held the week leading up to July 4th. While in town, check out the Historic Boston Tavern Tour for a unique perspective on what was really at the center of the American Revolution – taverns! – and visit watering holes frequented by Paul Revere, Samuel Adams, John Hancock and George Washington. Learn about the historic and contemporary milestones of Boston's inner and outer harbors during a 90-minute Historic Sightseeing Cruise, or get up close and personal with "Old Ironsides" on the Boston USS Constitution Cruise, which also includes tours of Bunker Hill Monument, Boston Tea Party Boat, Old North Church and the Naval Museum.
For more information on Viator as well as the latest deals, promotions, contests and news, check out Viator.com, the Viator Tours & Activities App (iOS and Android) and the Viator Travel Blog. Follow Viator on Facebook and Twitter.
About Viator
Viator is the leading global tours and activities provider for travelers, delivering online and mobile access to thousands of curated trip activities including tours, attractions, shore excursions and private guides, in more than 1,500 destinations worldwide. In-house travel experts work with trusted local operators to ensure the quality and value of every experience, all backed by Viator's 24/7 customer service and global low-price guarantee. With more than 500,000 verified reviews plus exclusive videos and insider travel tips, Viator has everything a traveler needs to find and book the best things to do worldwide. In addition to the flagship site – Viator.com – travelers can book in advance or in-destination via the Viator Tours and Activities App, as well as local-language sites for European, Latin American and Asian travelers. Viator also provides tours and activities to more than 3,000 affiliate partners including some of the world's top airlines, hotels and online travel agencies. Founded in 1995, Viator is a privately held company headquartered in San Francisco with regional offices in Sydney, London and Las Vegas. Viator – travel with an insider.