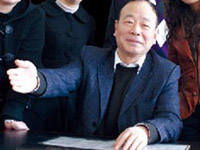 (PRWEB) June 29, 2014
Recently iAbrasive reporters had an interview with Pan Hongjun, chairman of the board in Jiangsu Sanling Abrasive Co., Ltd. Pan owes Sanling's success mainly to three valuable qualities: gratitude, courage and attitude.
Success is no accident. Sanling still has a long way to go. Pan Hongjun, chairman of the board in Jiangsu Sanling Abrasive Co., Ltd., expressed his thoughts and ideas concerning Sanling's development. "Sanling's success is not all about its present glory, its sales volume or popularity. It's development is full of hardship and endeavor. If there is anyone who believes Sanling to be a success, then I hope that he or she could recognize the unremitting efforts and diligent study of Sanling stuff."
Gratitude
Sanling's started business early in 1964 when Yancheng Corundum Cloth Factory was faced with extremely tough situation. The factory leaders were busy with job-hopping; the stuff lost morale; the whole factory was going to close down. In a conference held by workers, stuff got together to choose a new leader to save the factory. Progressive, creative and experienced, Pan Junhong was chosen as the factory leader. Under Pan's leadership, Yancheng Aluminum Oxide Sanding Belt Factory took on a new look, found broad sales channels and received good public recognition.
Pan was honest and frank when talking about his huge contributions, he said, "If I have made any contribution, I owe it to the predecessors who have paved way for Sanling's success."
Courage
Opportunities always come to him who waits. In 1998, Yancheng Sanling Abrasive Co., Ltd. was listed as one of the first pioneer enterprises. Having done extensive market research and investigation, Pan decided to produce resin abrasive cloth. At that time, only two large companies were able to manage the project. Some people didn't believe that Sanling could manage it. However, Pan tried hard to finance and spared no effort to fulfill his dream. Finally he had achieved favorable results after product launch in nine-month time. Sanling set up a record to be an industry legend.
In 2005, Pan planned to expand Sanling's factory and business scope. The company featured high-end coated abrasives products, and brought in new and high technology from Germany and Korea to develop new products. The sales volume increased 4 hundred million. In trial production, Pan worked day and night to learn from foreign technicians and do experiments himself. The newly-developed products received high recognition on Germany Cologne Exhibition. Even one of the world's Fortune 500 Austria sought to co-invest with Sanling.
Attitude
Attitude is everything. "Although Sanling has made huge breakthrough in history, there is still a gap between Sanling and international business giants, so we will keep moving, step by step. Sanling is a small part of the whole abrasives industry, and I'm a member of the society. I sincerely hope that Sanling's development can be a driving force to the whole industry; and I strongly believe in the bright future of Sanling." Pan said in full confidence.
For more information about successful abrasives business companies, please visit the official site of iAbrasive: http://www.iabrasive.com/.