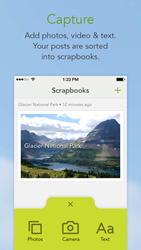 With the Keepsayk app always at your fingertips you can capture, share and relive your best memories right in the moment.
Chicago, IL (PRWEB) June 26, 2014
Chicago startup Keepsayk LLC has introduced an entirely new way to capture life as it happens with its new app called Keepsayk, available now on the Apple App Store. The app effortlessly creates beautiful, shareable scrapbooks using photos, video and text, right from an iPhone or iPod Touch. It's the instant scrapbook™.
The app is incredibly simple to use. Add photos, videos, and text to Keepsayk directly through the app, or choose from the phone's photo library. Keepsayk automatically presents memories in simple, beautiful scrapbook layouts that can be browsed right from the phone. Rotate any device to landscape when browsing a scrapbook and experience it in an immersive, full-screen view.
Simple but powerful editing tools allow for changing layouts with a single tap, reordering pages, cropping images, adding and editing captions, and more. Quickly refine a scrapbook until the presentation is just right.
Sharing is easy. Privately invite selected family and friends to view a scrapbook on the web with a password. Or make it public and share with the world via email, text message, or social networks Facebook, Pinterest or Twitter. All scrapbooks are private by default, and can be shared online when you connect Keepsayk to a Dropbox account.
"We all have hundreds or even thousands of pictures and videos on our phones, but no time to create something meaningful that tells a story," says Kimberly Harrod, Keepsayk Founder & CEO. "A Keepsayk scrapbook solves that problem by making it easy and fun to craft and share your memories and moments, right from your phone."
The Company is exhibiting at Techweek Chicago, the premier technology Conference & Expo, happening June 26 – 28 at the Merchandise Mart in Chicago.
Headquartered in Chicago, Illinois, Keepsayk is the instant scrapbook™. The company is led by Founder and CEO Kimberly Harrod, a former Vice President and member of the Investment Team at Arbor Investments, a Chicago-based private equity firm, where she was instrumental in helping businesses and entrepreneurs excel. She leads a team that includes Co-Founder and Chief Creative Officer Tim Hartford, an award-winning designer, and Chief Technology Officer Steve Landers, who spearheads the company's app development. Experienced UI/UX Director Justin Braem and Systems Architect Steve Redler IV round out the team. Visit Keepsayk on the web at http://www.Keepsayk.com.