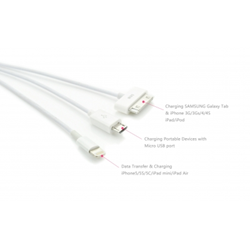 (PRWEB) June 27, 2014
Hiconn Electronics is one of the most outstanding mobile phone accessory manufacturers in the world. At the moment, the company is busy selling its new range of 3 In 1 USB Cables. Also, it has launched a site-wide promotion for these great accessories. All customers can enjoy the big discounts (up to 30% off) before July 05, 2014.
These high quality 3 In 1 USB Cables are specially made for the international customers. The main purpose of the big promotion is to expand Hiconn Electronics' online market. It is true that the company provides competitively priced mobile phone accessories at the lowest shipping costs. Its experienced workers are always there to provide any related help. Also, it shares some of the latest high-tech information on its website.
Here is some detailed information about the company's 3 In 1 USB Cables:
--Support all iPhone/iPad/iPod from Apple with 30Pin connector;
--Support all Samsung Galaxy Tab with 30Pin connector;
--Support all iPhone5/5S/5C/iPad4/iPad Mini/iPad Air/iPod from Apple with lightning connector;
--Support all portable devices with Micro USB B type connector;
--Both Data Transfer and Charging for lightning connector
"We are very happy to announce the special offer to facilitate worldwide customers. The brand new 3 In 1 USB Cables are available in several specifications. On our website, all clients can get low shipping fees," the company's chief executive officer says.
About Hiconn Electronics
Hiconn Electronics (Shenzhen Hiconn Electronics Co. Ltd.) is devoted to designing and manufacturing a wide range of connection cables and customized cable assemblies, offering many HDMI cables, VGA cables, SATA cables, USB cables, 1394 cables, DVI cables, SCSI (Small Computer System Interface) and more. For more information, please visit http://www.hiconn.net/.
Contact Person: James Yin (Sales Director)
Company Name: Shenzhen Hiconn Electronics Co., Ltd.
Address: Shenghua Building., Xixiang Road., Baoan District, Shenzhen, Guangdong Province, China
Zip Code: 518102
Tel: +86-755-8109 8345
Fax:+86-755-2779 3497