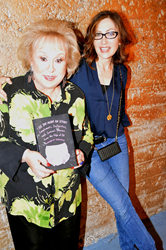 Los Angeles, CA (PRWEB) June 30, 2014
NY Times bestselling author, actress, and comedienne, Annabelle Gurwitch, doesn't leave home without her favorite multitasking tool: her Toola phone case.
"As a proud hyphenate writer-actress-mom, everything in my life has to multitask as well," she says. "A phone case that doubles as a purse and an accessory is perfect: I don't have to pack separate things when I travel!"
Gurwitch is currently on a tour supporting her latest NY Times bestseller, "I See You Made an Effort: Compliments, Indignities, and Survival Stories from the Edge of 50."
On the road and at home in Los Angeles, she's enamored with her Toola phone case. She was recently spotted rocking her Toola style at in-the-know comedy show "Don't Tell Mother," as well as schmoozing with five-time Emmy Award winner Doris Roberts.
Gurwitch established herself during a 7-year stint co-hosting the popular "Dinner & a Movie" on TBS, and spent the last three years hosting "WA$TED" for The Planet Green Network. She has hosted shows for The Style Channel, Sci-Fi, VH1, ABC, and as the anchor for the award winning "Not Necessarily the News" on HBO.
Her acting credits include "Dexter," "The Cleaner," "Medium," "Boston Legal," and "Seinfeld."
Lately, Gurwitch has carved a name as an insightful and comedic writer, opining on "Real Time with Bill Maher," "The Today Show," "The CBS Early Show," "CNN In the Money," "MSNBC," and "Fox and Friends." She's written for Glamour, Marie Claire, Men's Health, and Los Angeles Times; Time Magazine featured Annabelle and her "Fired!" film in their cover story "Ten Ideas That Are Changing the World." Her previous nonfiction book is "You Say Tomato, I Say Shut Up: A Love Story."
Praise for "I See You Made an Effort":
"Gurwitch makes for a highly likable, albeit sometimes-crass narrator who is willing to lay all of her cards on the table for the sake of entertainment." – Kirkus Reviews
"These essays contain a devilish good dose of fun and more than a dash of agita for those approaching and beyond the half-century mark." – Publisher's Weekly
"Seriously Funny." – NPR