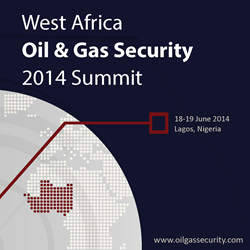 It's an irn Summit...
(PRWEB UK) 27 June 2014
The global summits organiser IRN gathered experts from across Nigeria and the wider West Africa region to provide delegates with a holistic overview of physical security within the oil and gas industry; some of the highly-regarded speakers included security experts from Hunt Oil Benin, Nepal Oil & Gas Services, GE Oil & Gas, Exxonmobil, Shell, Total E&P, Subsea 7 and West African Gas Pipeline Company Limited, amongst others. The respectable speaker faculty provided attendees with highly informative insights into their experience of security planning and implementation in the often challenging threat landscape of West Africa.
IRN hosted the well-received West Africa Oil & Gas Security Summit on the 18th-19th June at the Lagos Oriental Hotel in Lagos, Nigeria.
A theme which emerged frequently over the two days was the complex and deeply rooted issues around effective community engagement in Nigeria, and methods to ensure a company's CSR plans are working effectively.
Geopolitical instability was also addressed over the two days in a pertinent presentation which addressed insecurity, terrorism and religious fundamentalism in West Africa, with a case study of Boko Haram. There was also a presentation on the upcoming Nigerian elections and the impact on security and political risk, with an emphasis on the risks for oil and gas investors.
This meeting was sponsored by Neah Energy Asset Management, Neah GES, Infrasafe Security International, Track24, Six Maritime, Enodo Global, Cristanini Decontamination Systems and Halogen Security Company.