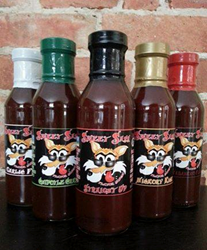 ""We try to create products that showcase the family around the table. No matter if you eat gluten free, vegetarian or Non-GMO. And we offer flavors for any taste preference," states Dan Campbell, Chief Marketing Officer.
Livonia, Michigan (PRWEB) June 30, 2014
In 2013, the family food company had their fingers on the pulse of their consumers. Their research, along with their sons, told them they were missing something and that they had something they didn't want. Their consumers did not want HFCS in their food and they were looking for a Non-GMO sauce. Sweet Sass Foods made a big business decision to reformulate their products to meet the consumers' needs.
Sweet Sass Foods, headquartered in Livonia, MI, started in 2009 with humble beginnings with their backyard sauce they called Flavor Sauce. "We knew we had something unique when our sons and family were using it with quinoa, tofu and vanilla ice cream, yes ice cream," said Mike Campbell, creator of Sweet Sass. Starting at local markets with demos, women shows, farmer markets and events to introduce everyone to Sweet Sass Flavor Sauce.
By 2011 Sweet Sass Flavor Sauce was on Kroger shelves. 2012 brought the introduction of two new flavors but they were still looking for a competitive advantage against the 'big guys' who offer products at 10 for $10.00. "With our sons, their wives and families following a healthy lifestyle, it was a natural progression for us to take this path. We found our edge as a product on the grocery shelves," explains Judy Adams, Sassipe creator.
2014, expanding into new markets, has made this 'The Year of the 'Flavor Sauce For Every Lifestyle'. The introduction of their Non-GMO Project Verified, gluten-free, HFCS-free and all natural condiments has been an exciting undertaking. It's time to Sass it Up Straight Up, Hickory Kick, Garlic Fix, Chipotle Craze, and Habanero Flare.
Available in Kroger and local markets in Michigan. Ohio Kroger and online.
For interviews and Sassipe cooking demos
Contact Mike Campbell / m.campbell(at)sweetsassfoods(dot)com / 734-347-3778