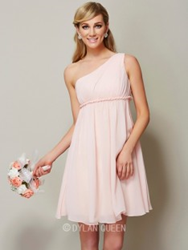 (PRWEB) June 27, 2014
Dylan Queen, a popular supplier of wedding dresses and special occasion dresses for women, is now busy selling its new collection of cute homecoming dresses online. Furthermore, all the company's newly released homecoming outfits are now provided with big discounts, up to 58% off. The special offer will last until July 07, 2014.
Dylan Queen is absolutely an industry pioneer in the fashion field. Its fabulous products sell well in the United States, Canada, Britain, France, Italy and South East Asia and many other countries. Most of them have been well appreciated by their purchasers.
In addition to the big discounts, the company also offers profound rebates for people who place big orders. That makes placing an order on Dylan Queen's online store more desirable. The company's main goal is to meet the varied needs and requirements of the different clients. All its brand new special occasion apparels are provided with the lowest possible rates. Also, clients can order custom made dresses without any extra costs.
What's more, the company has a group of experienced experts. All its members insist on picking the best materials to make the most beautiful outfits. Despite of the low prices, Dylan Queen never compromises quality.
About Dylan Queen
Dylan Queen is a reliable dress company. At its one-stop website, it offers a wide variety of chic dresses, including prom dresses, evening dresses, bridesmaid dresses, formal dresses etc. Its aim is to provide worldwide customers with fashionable gowns at acceptable prices. It frequently updates its website with new assortments.
For more details of the company and its brand new products, please visit http://www.facebook.com/iDylanQueen or http://www.dylanqueen.com/cocktail-dresses/.