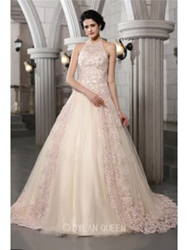 (PRWEB) June 28, 2014
Recently, Dylan Queen, a renowned wedding dress manufacturer and retailer, has revealed its new collection of long formal dresses. As a matter of fact, all items in this range are well designed by Dylan Queen's top experts. As a celebration of the exciting 2014 World Cup, all of them are now available at greatly discounted prices, from 21 to 61 percent off.
In addition to long formal dresses, Dylan Queen has a huge selection of graceful products for clients who want to be beautiful without spending too much. Many of its dresses are now priced less than $200. The big sale will not last for a long period of time; ladies who want to get cheap special occasion gowns should visit its website before July 12, 2014. Early buyers also have the chance to get extra gifts.
According to the company's chief executive officer, Dylan Queen is popular for its trendy items that are available at low prices. The company has become a leading brand in the dress industry. The cheap long formal gowns are the same as its other products in terms of quality.
The most popular items included in this collection are purple outfits and light blue outfits. Each of them is amazing and charming.
About Dylan Queen
Dylan Queen is a reliable dress company. At its one-stop website, it offers a wide variety of chic dresses, including prom dresses, evening dresses, bridesmaid dresses, formal dresses etc. Its aim is to provide worldwide customers with fashionable gowns at acceptable prices. It frequently updates its website with new assortments.
For more details of the company and its products, please visit http://www.facebook.com/iDylanQueen or http://www.dylanqueen.com/formal-dresses/.