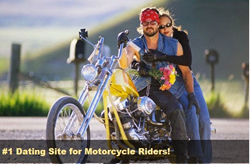 Los Angeles, California (PRWEB) June 29, 2014
It's now about halfway through the World Cup, and unfortunately some teams have already waved their farewell, including some of the favorites such as Spain, England and Italy. Being world's largest online dating site for biker singles where sports enthusiasts congregate, BikerKiss.com has received quantities of predictions about the World Cup and lately, it revealed these predictions.
As to which team will win the World Cup, 31% of BikerKiss members voted for Brazil, 21% for Spain, 17% for Argentina. These are the top 3 teams in the prediction list. Now with Spain being already eliminated, Germany, who got about 14% of all votes, jumped to the third place. "I support Brazil. For one thing, they're one of the most powerful teams in the world, probably the most powerful team. For another, they are the host this year. That works to their advantage," said one BikerKiss member Bob, a football fanatic from the city of London. "Plus, I love their concept of football. If football is art, then those players are artists."
A lot of people were surprised and even shocked to know that Spain failed to even make it out of the group. "How is this possible? Being the champion of Euro 2008, 2012 and World Cup 2010, Spain seems to be in their prime." Brian, BikerKiss marketing department manager, expressed his own opinion, "I bet no one saw this one coming."
Interestingly, although not being one of the most competitive teams, the United States still managed to obtain nearly 10% votes on the biker dating site, which was even higher than England and France, who both won the World Cup once and were considered to be the favorites. "I'm not really much of a soccer fan, so... if I have to choose a team a support, of course it's America because I am American." When asked about why vote US, Mike said so. "And I believe almost all votes for America come from American members. People from other countries are rational and know we don't stand much chance."
The rest votes mainly went to Italy, England, Netherlands, France, Uruguay, Belgium and Portugal.