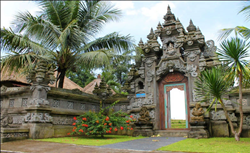 IHYT's Bali program provides excellent value, world-class instruction, and an opportunity to access time-honoured traditions in an ancient and breathtaking land.
(PRWEB) June 27, 2014
Yoga therapy trainees intrigued by Integrated Health Yoga Therapy's (http://www.ihyt.org/) intricate fusion of modern scientific advances and medical research with time-honoured knowledge and techniques but desirous of a slightly more exotic training locale will soon get their wish: in April 2015 IHYT will be running a 300 hour Program/500 Hour Yoga Alliance Certification for RYT-200's Yoga Therapy training in sunny, serene, sumptuous Bali (http://www.ihyt.org/#!level-1-therapist-bali/c222i).
With nicknames such as Island Of Peace, Morning of the World, Island of Hinduism, and Island of the Gods, Bali conjures up images of culture, luxury, and natural beauty that arrange a therapeutic fusion of their own. In addition to its fabulous beaches that attract surfers and sun-lovers alike, the island offers a unique blend of modern spas, luxuries, and shopping opportunities with ancient temples, rich artistic and cultural traditions, rugged volcanos, and blissful natural landscapes, all in a safe and incredibly friendly and welcoming environment.
The training will take place at West Bali Retreat Centre in a small village in the region of Tabanan, about an hour from the airport and 20 minutes from the Balinese artistic and cultural centre of Ubud. The retreat combines efficient training space with architecture in the Balinese tradition of spatial and aesthetic harmonization with the natural world, blending seamlessly into a coconut grove surrounded by rice fields and neighbouring 3 rivers. In addition to the regular Rice Terrace Suites, 2 Deluxe Suites are available, while a limited number of more affordable options can also be arranged.
IHYT's Yoga Therapy Training Level 1 in Bali will feature an Early Bird discount available up to January 16, 2015, and include IHYT's usual complement of experienced instructors with pioneering Yoga Therapy perspectives who are leaders in their fields: Amy Weintraub, Jnani Chapman, Sujuatha Kekada, Neil Pearson, Antonio Sausys, Kathy Schafer, Kaoverii Weber, and founder Karen Claffey (http://www.ihyt.org/#!faculty/cjg9). Level 2 in Bali will be available in April 2016 or possibly October 2015 subject to demand. For information on fees, accommodations, scheduling, meals, and more check out IHYT's instructional PDF at http://media.wix.com/ugd/605d37_6122b578f8c34b7b83c413256e22ffa0.pdf.
As modern medicine moves steadily toward a more holistic view of health and wellbeing, the field of Yoga Therapy is a rapidly expanding and evolving one. Evidence-based scientific studies are coming out regularly supporting yoga's health benefits, and many health professionals are increasingly willing to recommend yoga therapy to their patients. Examples of chronic conditions benefited by yoga therapy include cancer, high blood pressure, heart disease, low back or musculo-skeletal pain, osteoarthritis, anxiety, depression, obesity, diabetes, trauma, addiction, and grief, and there are many unique niche opportunities for Yoga Therapists in assisting patients with these and other challenges.
Integrated Health Yoga Therapy's dedication to merging 'science' with 'the subtle', integrating 'scientific' evidence-based mind-body techniques with 'subtle' energy-based and time-honoured yoga therapy practices, make IHYT Yoga Therapy Training an exciting and practical choice for those seeking a solid foundation for a career in the dynamic space between modern medicine and ancient wisdom.
IHYT's approach involves the highly specific application of yoga's various ancient traditions of yoga postures, breathing exercises, and meditation practices to address specific health conditions. In addition, considerations such as diet, lifestyle, other physical limitations, and even personality type are combined with a comprehensive knowledge of modern physiotherapy practices to create a program absolutely tailored to individual conditions. For more detailed information on IHYT's philosophy check out past press releases at http://www.ihyt.org/#!press-releases/c184d.
For those seeking a rigorous foundation in Yoga Therapy combined with that 'vacation feel' of adventure and mystery, IHYT's Yoga Therapy Training Level 1 in Bali provides excellent value, world-class instruction, and an opportunity to access time-honoured traditions in an ancient and breathtaking land.
About Integrated Health Yoga Therapy
IHYT is a yoga therapy school for a wide range of health professionals whose practices might benefit from the skill-sets and philosophy underlying therapeutic yoga. Yoga therapy is becoming more and more recognized and utilized by the medical-scientific community as a safe and effective complementary therapy and treatment in a wide range of conditions. IHYT offers a carefully selected curriculum of evidence-based educational programs taught by faculty who are leaders in their respective fields, as outlined on our website at http://www.ihyt.org/