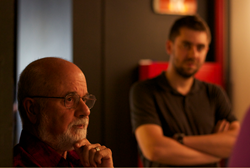 Ukraine has been very interesting this time.
(PRWEB) July 01, 2014
Jeff McKenna has been involved in software development for over 50 years and has been one of the master-minds behind the creation and delivery of agile software development since 1987. He is actively involved in coaching Ukrainian companies on all aspects of Agile & Scrum methods.
"Jeff McKenna is such a well-known and respected name within Agile and Scrum communities and when we found out that he was going to be in Kiev, we jumped at the opportunity", says Alexander Kernishniuk, CEO Kromtech Alliance Corp and Jeff's former trainee. "We take Scrum methods seriously since they deliver tangible benefits to our development processes and help us minimize risks and errors at every stage; however there's always room for making things better. So having Jeff in our office giving valuable suggestions and telling us amazing stories from his years of experience in the software industry was truly great."
"Ukraine has been very interesting this time," says Jeff McKenna. "Not only did I do a lot of teaching and coaching, but I had been educated with the long history of Ukraine, and the current situation. Every day I heard dreaming and hoping for living a life full of opportunities – without limitations of the past. And it's encouraging to see that international companies like Kromtech Alliance Corp. have its presence in Kiev. And as a Scrum Coach I saw how well Scrum was working and how the company management and facilities supported that work. The role of the Scrum master was instrumental in the state of agile at Kromtech. He has guided the teams to a true agile environment using Scrum, XP and Kanban tool and techniques as needed."
To read Jeff's blog about the Ukraine visit, click here: http://blog.agileaction.com/.
To learn more about Jeff McKenna and his Agile Action business arm, click here: http://www.agile-action.com/index.html.