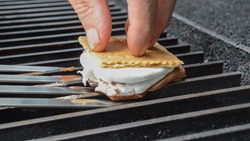 You don't need an open fire to make s'mores- just a hot grill.
Cartersville, GA (PRWEB) June 26, 2014
The Fourth of July is the biggest grilling day of the year and it is right around the corner. With this in mind, GrillGrate is releasing delicious new dessert recipes that are sure to be the highlight of any Independence Day celebration.
"You will be the neighborhood hero when you grill s'mores for the gang after dinner – take it from me, be prepared to make a plate or start an assembly line with eager volunteers!," said Brad Barrett, President of GrillGrate. "Or try the fruity Red, White and Blue Dessert Quesadilla. Both recipes are easy to make and easy to grill, not to mention delicious."
GrillGrates make it easier to grill all types of foods, including unexpected dishes like pizza and grilled desserts. The GrateTool is designed specifically to fit between the rails to make it easy to lift and handle anything, especially items like quesadillas and grilled s'mores.
GrillGrates are a patented grill surface featuring a raised rail design that has a bottom with holes in it to drain fats and grease and allow smoky flavor to waft through to the food. The interlocking panels, which sit on top of the existing surface or replace it altogether, help turn any backyard griller into a seasoned pro. The bottom blocks flare-ups while the valleys keep juices sizzling and smoking just below the food.
To become the grillmaster at this year's Fourth of July celebration, try out one (or both) of these new recipes released by GrillGrate:
Ingredients:
Graham Crackers
Marshmallows
Hershey's Chocolate Squares
Ingredients To make one S'more:
1 Graham Cracker in 2 halves
½ Hershey's Chocolate Bar
1 Marshmallow
Grilling Instructions:
Spear marshmallow (1-2 at a time) on GrateTool or large grill fork.
Hold the marshmallow just over the grillgrates and it will soon start to soften and melt.
Lower the marshmallows onto the raised rails briefly- turn and repeat.
Place ½ graham cracker with chocolate on top onto the grillgrates.
As soon as the chocolate shows signs of melting, place marshmallow on top.
Place top ½ of graham cracker over marshmallow and pull off the fork or gratetool to complete the grilled s'more.
It is a fast grill, less than 1 min for each marshmallow and 30 seconds for the graham cracker and chocolate to be ready for handing off (Tip: Have lots of napkins on hand for gooey chocolate) or plating. If possible, let the s'more sit for 2-3 minutes after grilling for the chocolate to firm up a bit.
Red, White and Blue Dessert Quesadilla on the Grill
Blueberries, raspberries, and white chocolate chips are the ideal ingredients for a great dessert quesadilla that is easy to prepare and grill. Keep the grill warm after dinner and entertain family and guests with a nutritious fruity dessert.
Ingredients:
Four flour tortillas
Cup of white chocolate morsels
Cup of fresh raspberries
Cup of fresh blueberries
Ricotta cheese
Confectioners' sugar
Vanilla
Makes 2 dessert quesadillas.
Making the filling:
8 ounce container whole ricotta cheese
½ cup confectioners' sugar
2 tsp vanilla
Mix ingredients together in a food processor — this makes the filling for two quesadillas.
Making the Quesadilla:
Spread 1/3 of the filling on one tortilla (this is the bottom).
Sprinkle semi-sweet morsels.
Place 2nd tortilla on top.
Spread light film of filling.
Decorate top with raspberries and blueberries.
Add a few more white chocolate morsels .
Grilling the dessert quesadilla:
The grill should be at medium heat, about 400F. Use a grilling spray or wipe the raised rails with oil
Slide the Quesadilla off the cutting board onto the GrillGrates — close lid. Check in 3-4 minutes by slightly lifting an edge to see the sear marks.
Quarter turn the quesadilla if dark searing or wait and quarter turn in 1-2 minutes. Close lid.
Use the GrateTool to check for firmness of quesadilla, it should be crispy and firm.
Determine whether to give it a couple more minutes or off it comes onto the cutting board.
Let stand for 2 minutes.
Cut and serve.
For more recipes from GrillGrate, visit http://www.grillgrate.com/index.php?/site/grate_meals.
About GrillGrate  
GrillGrate LLC is based in Cartersville, GA. GrillGrates are manufactured in various lengths and shapes for all popular grills. GrillGrates improve the cooking performance of any grill, including gas grills, charcoal grills, kamado and pellet grills. GrillGrates are available at hardware, house-ware and outdoor retailers as well as at grillgrate.com. GrillGrates are proudly made in the USA. The GrateTool™ is made in China.