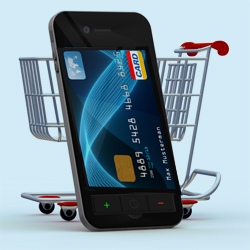 73 percent of respondents find mobile technology extremely beneficial to their business.
Toronto, Ontario, Canada (PRWEB) July 03, 2014
Canada has gone mobile! The report released on June 19, 2014 by Techvibes about mobile devices is in. For Canadian businesses – there is both good and bad news. The good news is that 73 percent of respondents reported that mobile devices have an extremely positive effect on business. The bad news - only 22 percent of Canadian businesses are budgeting for mobile device technology. Small businesses that are unable or unwilling to invest in mobile phones for their employees tend to have "bring your own device" policies. In those cases, employees bring in their own smartphones to accept payment with.
The fact remains: 78 percent of businesses don't budget for mobile phones. This is despite the customer service benefits that arise from utilizing mobile phone technologies. Instead, most businesses opt to invest in mobile architecture when the need arises. Whether businesses invest in mobile phones themselves, or encourage their workers to bring their own – implementing mobile payment services provides unlimited opportunities to process payments from practically anywhere in the country.
"Mobile payments are easier to implement for businesses because the majority of people already own a Smartphone," commented Vicky Martins, Marketing Manager at MONEXgroup. "That's what makes our Virtual Merchant Mobile solutions so valuable and powerful for businesses on the move. This mobile service takes traditional methods of Visa and Mastercard payments and puts it right in your pocket."
MONEXgroup offers Virtual Merchant Mobile on iOS and Android systems. Utilizing existing hardware (the Smartphone or tablet) makes this payment option affordable, adaptable and scalable. Any businesses looking to accept safe and fast payments should look no further than MONEXgroup's Virtual Merchant Mobile.
MONEXgroup was awarded as the #1 Ranked Payment Processor in Canada offering the lowest rates in the industry. Services offered include: debit card and credit card point-of-sale (POS) terminals, mobile, integrated and e-commerce online payment products. MONEXgroup serves over 25,000 merchant accounts across Canada in all market segments including: restaurants, business-to-business, professional services, leisure and hospitality.
Holly Murray
MONEXgroup
Marketing Communications
HMurray(at)MONEXgroup(dot)com
T: 647 204 0197