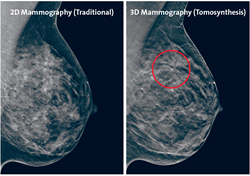 "We don't want any of our patients to need chemotherapy. Our goal is the perfection of early detection and prevention of breast cancer, and we're almost there," said Dr. Nancy Elliott, Founder of Montclair Breast Center.
(PRWEB) June 27, 2014
3D Mammography (tomosynthesis), a 3-dimensional breast imaging technique, plays a key role in breast cancer detection at the most treatable stages. Dr. Nancy Elliott, a renowned breast surgeon and Founder and Director of Montclair Breast Center, a New Jersey Breast Center of Excellence, says; "Within six months of installing our Hologic 3D mammography unit, we detected three invasive breast cancers that were undetected using traditional digital mammography. Because these cancers were found at Stage 0 or Stage 1, they were very treatable and so now pose little to no risk for these patients."
Dr. Elliott's findings agree with the outcomes of a study reported in The Journal of American Medical Association (JAMA), June 25, 2014, that found the addition of 3D mammography to digital mammography was associated with a decrease in recall rate and an increase in cancer detection rate.
When recently interviewed on CBS Nightly News in relation to this study, Dr. Elliott said; "The study shows women don't have to be called back for repeat exams as often so therefore there is less anxiety; I think it's important that women get the message that if they are going to have a mammogram they should make it count [with 3D mammography]". Not included in the CBS segment is Dr. Elliot's opinion that 3D mammography should be the standard for all mammography, replacing the more commonly used 2D digital mammography, since 3D mammography presents the 2D image plus far more detail with every scan.
In the JAMA study, researchers at 13 sites compared records of 281,187 women who had digital mammograms alone with 173,663 who had the 2-D and 3-D versions. The study found 3-D mammograms detected 41% more invasive cancers. Adding the 3-D imaging decreased the rate of repeat scans to evaluate inconclusive findings by about 15%.
Dr. Elliott feels that her breast center's investment in 3D mammography is already saving lives and is an investment in a future where breast cancer poses little risk to women, saying; "We don't want any of our patients to need chemotherapy. Our goal is the perfection of early detection and prevention of breast cancer, and we're almost there."
Montclair Breast Center references an independent study available at montclairbreastcenter.com that reports their patient outcomes at 98% for early detection (Stage 0 and Stage 1) of breast cancers while the corresponding national average is just 60%.
Although not a specialty commonly found in any medical directories, Dr. Elliott suggests that all women should have a breast doctor; "Women should have a 'breast doctor' because all GYN cancers combined are just one-third the incidence of breast cancer, yet women visit their gynecologist every year."
Breast cancer is the most common cancer among women in the US, other than skin cancer and is the second leading cause of cancer death in women, after lung cancer. According to published American Cancer Society statistics, there will be 232,670 women diagnosed with breast cancer in 2014 and 40,000 of these patients are expected to die from the disease. Also, the chance of a woman having invasive breast cancer during her life is about 1 in 8 and the chance of dying from breast cancer is about 1 in 36.
Breast cancer death rates in the United States have been falling, probably the result of finding the cancer earlier and providing more timely, and better treatment. It is widely agreed that early detection is the key to surviving breast cancer. Right now there are more than 2.8 million breast cancer survivors in the United States.
For more information about the early detection of breast cancer, visit: Montclair Breast Center.
About Dr. Nancy Elliott
One of the first Fellowship-trained breast surgeons in the United States, Dr. Elliott started her Montclair practice in 1989. She completed training in breast disease at UMDNJ/Robert Wood Johnson University Hospital. She received her medical degree from Mount Sinai Medical Center and completed a general surgery residency at St. Vincent's Hospital, in New York City. Dr. Elliott graduated with honors from Barnard College, Columbia University.
About Montclair Breast Center
Montclair Breast Center is a premier multidisciplinary breast center located at 37 N. Fullerton Avenue in Montclair, NJ, specializing in proactive breast healthcare, risk-reduction techniques and the early detection and treatment of breast cancer. Our nationally recognized, dedicated team of breast imagers and breast surgeons use the most sophisticated technologies housed in our own facility and are committed to providing the best possible rate of early detection. Visit http://www.montclairbreastcenter.com for specifics. In 1998, Montclair Breast Center became an out-of-network breast center to provide care solely dictated by the needs of our patients, uncompromised by the restrictions and limitations imposed by managed healthcare corporations.