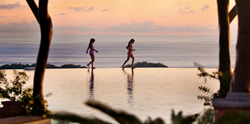 Explore the happiest place on earth.
Miami, Florida (PRWEB) June 27, 2014
Sinatra may want to fly to the moon and play among the stars, but flying to Costa Rica and playing in the sand is the trend for 2014 Baby Boomers states Real Estate Scorecard. One of the best places to live in Costa Rica welcomes retirees with convenient access directly from the Liberia Airport. Folks in their Golden Years can catch a quick flight to their own Guanacaste gated community and enjoy paradise without the hassle.
Just off on the west coast in Guanacaste Province, Baby Boomers are taking their first step on Costa Rica. Liberia Airport, or also known as Daniel Oduber Quiros International Airport, is the primary and only airport in Costa Rica. While the choices of airports are limited, there is no complaining here! Since the newest terminal was unveiled in 2012, everyone has been loving the convenience and location of this busy Caribbean airport. Folks traveling to Costa Rica can enjoy a smooth flight into the updated terminal, grab their luggage and head to the local getaway destinations, like Samara Beach, in just a few minutes.
Thousands of people are jumping on this opportunity to visit and retire thanks to the accessibility of the airport. Even airlines are addressing the travel demands of this amazing location. Just recently JetBlue added Liberia Airport to their international collection, and more nonstop flights to Costa Rica beginning in the fall. Nonstop flights from Boston to Costa Rica in the winter is attracting people who are looking to escape the cold. Fort Lauderdale also added Costa Rica to its list of JetBlue destinations, and much more.
Other airlines are available for visitors and residents of the Guanacaste gated communities who want to fly out of Liberia Airport. Check out the list now:
JetBlue
US Airways
Frontier Airlines
Delta
American Airlines
Sun Country Airlines
Air Canada
Copa
Avianca
TACA/LACSA
Rumor has it Southwest Airlines may be the next US carrier adding direct flights from Houston to Costa Rica. The convenient airport is a perk, because the entire atmosphere of Costa Rica is what makes retirees want to stay. That is not a problem, because there is a certain location close to Samara Beach that is the perfect place for Baby Boomers looking to live in Costa Rica.
Guanacaste Province is one of the most luxurious and upscale areas of Costa Rica. Guanacaste borders the beautiful Pacific Ocean, and it is the southern neighbor to Nicaragua. The population is just over 320,000 and the area offers a variety of activities, events and resident communities for those that are wondering which are the best places to live in Costa Rica. Real Estate Scorecard finds one Guanacaste gated community in the Samara Beach area that stands out.
Las Ventana del Mar is the spotlighted community of the Providence. This gated master-planned community faces the Pacific Ocean. The collection of Spanish-influence home designs and Terra Cotta details add to the beauty of the Pacific sunset that residents anticipate each evening. Mountaintops are visible from the 9,000 sq. ft. Infinity Edge pool and relaxing in a nearby hammock is not an uncommon activity for retirees who love the outdoors.
The scenery of this gated community is stunning and the well designed amenities are what make this community ones of the best places to live in Costa Rica.
Las Ventanas Del Mar Amenities:
24 Hour Manned Gated Entrance
9,000 Square Foot Resort-style Infinity Edge Pool and Jacuzzi
Community Gardens Poolside
Two Acre Fresh Water Lake Stocked with Fish
Three Lake Ranchos Entertainment Pavilions with Gas Grills
Two Lighted Tennis Courts
Bocce Ball Court
Outdoor Gym
Currently there are 22 oceanview homes in this luxury mountain top gated community. While the residents of these elegant homes are enjoy their tasteful amenities, the community is piquing retirees interest from all of the world for the world class sportfishing and outdoor recreational sports. Folks are coming from near and far to see what all the talk is about in Costa Rica, and Real Estate Scorecard believes folks will be impressed.
The Americana-style amenities, the nearby Samara Beach and of course, the convenient airport make the Guanacaste Province one of the best places to live in Costa Rica.
For more information about available properties and staying at Las Ventanas del Mar, call the warm friendly staff at 404.418.4970.
About Real Estate Scorecard:
Real Estate Scorecard writes unbiased real estate reviews providing in-depth information about popular gated communities in Florida, Georgia, North Carolina, South Carolina and Tennessee, all in an effort to help people discover where to retire in the Southeast.
Website: http://realestatescorecard.com