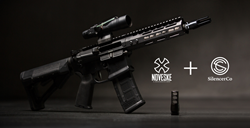 West Valley, UT (PRWEB) June 27, 2014
Starting on July 24th 2014, you'll be able to buy SilencerCo's industry-leading muzzle devices at Brownells. Silencerco, known for manufacturing state-of-the-art suppressors for hunting and shooting, is also highly regarded for its muzzle devices and accessories. While suppressors are still only available in 39 states (and rising), most muzzle devices can be purchased in 50. This video examines the flash hiders and muzzle brakes built by Silencerco: http://youtu.be/-OfCY2HNAMs
A muzzle brake is a device connected to the muzzle of a firearm that redirects propellant gases to counter recoil and keep the barrel from rising when firing. This allows hunters and shooters to stay on target for quicker follow up shots. Flash hiders also attach to the threaded muzzles of firearms and reduce the firearm's visible signature while firing by cooling or dispersing the burning gases that exit the muzzle. Silencerco's Trifecta Flash Hider effectively hides all muzzle flash -- even with barrels as short as 7 inches. The Silencerco Trifecta muzzle brake was rated best for felt recoil reduction by independent testing.
Available in common AR thread pitches, theTrifecta Muzzle Brake and the Trifecta Flash Hider can be mounted to virtually any rifle with a threaded barrel.
For over 75 years, Brownells has been widely recognized for the quality and customer service that they offer, which makes them a perfect fit for our products. Brownells provides quality Gunsmithing tools, gun parts and service to the firearms industry. Brownells currently carries the Trifecta Muzzle Brake and the Trifecta Flash Hider.