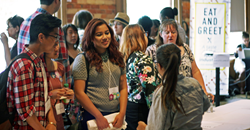 Eat and Greet is part of My Food My Way's continuing effort to "change the culture of food in Toronto's homes, schools, and communities"
Toronto, Ontario, Canada (PRWEB) June 26, 2014
On June 23rd, 2014, the student nutrition campaign known as My Food My Way hosted Eat and Greet - a unique food industry event for Toronto secondary school students. Around 60 TDSB students and teachers from across the city gathered at the Gladstone Hotel for the opportunity to connect with leading food industry professionals.
Abbey Sharp, a registered dietician and food writer, hosted the event and kicked things off by stating that the goal of the day was to "educate students about the diversity of food jobs in Toronto, involve students in the city's food community, and get students and professionals working together to develop innovative solutions that can impact nutrition and health."
That morning, students were introduced to a range of professionals who are leaders in the local food community, including chefs, culinary teachers, entrepreneurs, food writers, urban farmers, and chemical engineers. Among the group of professional participants were Skyline Farms founders Gustavo Macias and Jake Harding, culinary teacher at Thistletown Collegiate Institute Keith Hoare, and internationally acclaimed chef Susur Lee.
Irwin Adam Eydelnant, from i & j ideations, whose professional experimentations with food includes a device that allows people to taste citrus-flavoured clouds, got several students excited about the prospect of innovation in food. This would set the mood for the afternoon's activity, which would see students and professionals working on developing new concepts together.
Professionals and students were led through a "Design Sprint" – a workshop that challenges participants to solve problems through quick bursts of idea generation – in order to "discover solutions that could inspire people to eat healthier." Professionals judged the final creative concepts in the categories of Most Innovative, Most Potential, and Favourite Idea, with prizes for the winners.
At the end of the event, all of the student attendees evaluated their experience, with all respondents attesting to an "increase in knowledge and awareness of jobs within the food industry." In a more casual tone, one student remarked, "I met many people, networked a lot, and had so much fun."
Eat and Greet is part of My Food My Way's continuing effort to "change the culture of food in Toronto's homes, schools, and communities", and is exemplary of an engagement-focused campaign that strives to get young people to play an active role in defining that culture.
My Food My Way was spearheaded jointly by the Toronto Education Workers (TEW) and the Toronto District School Board as part of their Healthy Learning Healthy Living initiative. "By facilitating meaningful relationships between students and professionals, we are hoping to inspire the next generation of food industry leaders," said John Weatherup, President of the TEW.
To learn more about Eat and Greet, including the complete list of participating professionals and a full review of the day, or for information on how you can participate in future My Food My Way events, please email: info(at)myfoodmyway(dot)ca.