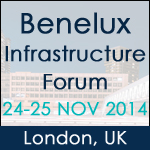 London, UK (PRWEB UK) 26 June 2014
SMi is proud to have Jeroen Kies, Assistant General Manager of Sumitomo Mitsui Banking Corporation, discussing the financial structure of the Gemini Offshore Wind Farm at its 13th annual Benelux Infrastructure Forum.
This wind farm, located in the Dutch part of the North Sea, will be one of the largest wind farms in the world when it comes to its production and size. Project Gemini, as it is also called, has been funded by a private and public partnership including the Sumitomo Mitsui Banking Corporation and it aims to cut CO2 emissions by 1.25 million tons per year.
The highly successful Benelux Infrastructure Forum will allow you to find out what challenges are faced in the infrastructure sector, how they are overcome and key project funding structures from exclusive case studies by leaders of the industry that are currently influencing the market. Popular topics that will be explored further are Institutional Financing, Alternative Sources of Finance, Procurement and Infrastructure Debt. New topics include Credit Ratings, Benelux Secondary Markets and The Dynamics of Working in a Consortia.
Benefits of Attending:

Learn about leading Renewables PPP projects in the Benelux region and how they are funded
Expand your knowledge on institutional financing and recent developments
Hear case studies from outside of the Benelux region on waterways projects
Discover the latest contractual and legal developments across the region
Understand recent funding issues closely linked to PPP
Network with industry experts and key opinion leaders within the Benelux region
Expert Speakers Include:
Erik Jan Snik, Coordinator PPP Program, Ministry of Finance
Jeroen Kies, Assistant General Manager, Sumitomo Mitsui Banking Corporation
Karoy Hornyak, Associate Director, DG Infra
Jan Willem van Roggen, Managing Director, NIBC Bank
Alistair Perkins, Head of Project Finance, ING Investment Management
Paul Lievens, Chief Finance Officer, Jan De Nul
Konstandinos Diamandouros, Head of Office, European Union Road Federation
Michiel Engelaar, Senior Loan Officer, European Investment Bank
For more information please visit http://www.smi-online.co.uk/2014beneluxconf.asp.
If you would like to attend this conference as a delegate please contact Andrew Gibbons on +44 (0)207 827 6156 or e-mail agibbons(at)smi-online(dot)co(dot)uk.
If you are interested in sponsoring this event contact Alia Malick on +44(0)20 7827 6168 or email amalick(at)smi-online(dot)co(dot)uk.
If you would like to become a media partner contact Sarah Watson on +44 (0)20 7827 6134 or email swatson(at)smi-online(dot)co(dot)uk.