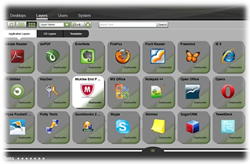 Pure Storage and Unidesk have enabled us to successfully deploy VDI, increasing our speed, agility, and efficiency.
Marlborough, MA (PRWEB) June 26, 2014
Unidesk®, the Windows® desktop layering leader, today announced that USF Health System is using technology from Pure Storage and Unidesk to power infrastructure that improves patient care through dramatically increased clinician and IT productivity. With its new Virtual Desktop Infrastructure (VDI) leveraging Pure Storage FlashArray, all-in-one VDI management software from Unidesk and server and desktop virtualization software from VMware, USF Health is giving its clinicians and staff faster, more secure access to key healthcare applications, while reducing IT maintenance and expenses.
USF Health is a partnership between the Doctors of USF Health and the University of South Florida Morsani College Of Medicine, the College of Nursing, the College of Public Health, the College of Pharmacy, the School of Biomedical Sciences, and the School of Physical Therapy and Rehabilitation Sciences. The Tampa-based healthcare organization is dedicated to making life better through a unique, integrated approach that combines research, education, and healthcare. USF Health is relying on Pure Storage and Unidesk to meet the demanding desktop requirements of the healthcare industry, allowing for constant reconfiguration, reliable uptime and I/O performance, quick delivery of any application, and a persistent experience that saves all clinician and staff customizations.
"In healthcare, desktops have to perform well and they have to be constantly configured and updated with many different applications," said Richard Savage, systems administrator, USF Health. "Pure Storage and Unidesk have enabled us to successfully deploy VDI, increasing our speed, agility, and efficiency. What used to take eight hours to back up a store of electronic medical records, now takes two. What used to take several hours to package and deliver applications and Windows patches, now takes minutes. We now have the right infrastructure in place to increase clinical and IT productivity and enhance patient care."
USF Health selected Pure Storage's award-winning, all-flash storage array for its inline deduplication technology and ability to deliver unmatched storage performance, scalability, and data security. A single Pure FlashArray can power USF Health's 500 virtual desktops provisioned by Unidesk, enabling the health organization to experience nearly 11:1 reduction of data and latency of less than one millisecond. USF Health selected Unidesk and its patented Composite Virtualization® layering technology to simplify Windows image management and application delivery. Unidesk enables every desktop virtual machine (VM) to be created and patched from a single, shared Windows OS layer and any combination of shared application layers for enhanced speed and agility. Together with the combined storage efficiency of Pure Storage and Unidesk, USF Health is able to support its wide variety of healthcare, research, and education use cases with a lean IT staff.
"Persistent VMs are where Pure Storage and Unidesk really shine for us," continued Savage. "We tried non-persistent desktops at first, but our users would lose their personalization every time we recomposed our VMware Horizon View pools, and the number of images we needed offset our storage savings. Now, I can give clinicians, staff, and in-house developers a truly persistent virtual machine with only one Windows and set of application images to manage, and let Pure Storage de-dupe and Unidesk layering save all the space."
"The move to digitize healthcare has totally transformed how hospitals and providers need to invest in their IT infrastructure. By bringing patient care and medical records online and instrumenting diagnostic equipment to be digital-first, healthcare institutions have found themselves running some of the most sophisticated data centers in the IT industry, all while navigating challenging regulatory and customer data privacy expectations," said Matt Kixmoeller, VP Products, Pure Storage. "Flash storage is a tool to help hospitals deliver the very best patient experience, while helping healthcare providers reduce the cost of care by making doctors and clinicians more productive. Pure Storage has enabled healthcare providers to leverage flash broadly across their environments by bringing the cost of all-flash storage inline or below traditional disk solutions. Pure Storage is not only proud to be eliminating USF Health's storage headaches, we're helping to enable competitive advantage so their clinicians and staff can focus on doing what they do best: delivering the highest quality care."
"The amount of IT time and effort that healthcare organizations spend trying to keep Windows, Electronic Health Record software and other applications current is massive, especially since they often need to be patched and upgraded once a month," said Tom Rose, Chief Marketing Officer, Unidesk. "The time spent on this is time not spent enhancing patient care or complying with high security and privacy standards. Unidesk is pleased to be the platform that makes image management and application delivery so much simpler for USF Health's lean IT staff, and gets virtual desktops and applications into the hands of those who are making life better for USF Health patients."
To learn more about how USF Health is succeeding with its virtual desktop initiative, view a live recording of the webinar sponsored by Pure Storage and Unidesk, which features Richard Savage, Systems Administrator at USF Health. To view the live recording, visit: http://www.unidesk.com/videos/customer-webinar-usf-health.
About Unidesk Corporation:
Unidesk is accelerating the movement of Microsoft Windows® desktops to the cloud. Unidesk's patented desktop layering software is the simplest way for IT organizations to deliver applications, manage images, sustain user customizations, and optimize storage for desktops virtualized on VMware vSphere®. Hundreds of Citrix XenDesktop® and VMware Horizon View™ customers use Unidesk to reduce the cost and complexity of Virtual Desktop Infrastructure and Windows management. Unidesk is a privately-held company headquartered in Marlborough, Mass., with authorized solution partners around the world. For more information, visit http://www.unidesk.com.
About Pure Storage:
Pure Storage, the all-flash enterprise storage company, enables the broad deployment of flash in the data center. When compared to traditional disk-centric arrays, Pure Storage all-flash enterprise arrays are 10x faster and 10x more space and power efficient at a price point that is less than performance disk per gigabyte stored. Pure Storage FlashArrays are ideal for high performance workloads, including server virtualization, desktop virtualization (VDI), database (OLTP, real-time analytics) and cloud computing. For more information, visit http://www.purestorage.com.
###
Unidesk is a registered trademark of Unidesk Corporation in the United States and/or other jurisdictions. All other trademarks and registered trademarks are property of their respective owners.
Media Contact:
Andrew Nadeau for Unidesk
anadeau(at)unidesk(dot)com
508-573-7847