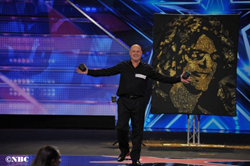 winner of "America's Got Talent" is speed and glitter painter Robert Channing
New Hartford, NY (PRWEB) July 02, 2014
"These days, it's not about talent, it's about two things:
1. Your ability to stun people.
2. Your ability to out market the competition."
Levine believes the biggest winner of "America's Got Talent" is speed and glitter painter Robert Channing. Why? According to Levine, "The performer who officially finishes in first place will win a small stipend a day gig with the show. But, whether he "officially" wins or not, Robert Channing has already won big. He has parlayed his AGT appearance into several hundred thousand dollars via corporate, charity and college event bookings and the sales of his custom artwork."
Channing shocked famous shock jock Howard Stern while whirling his paint brushes onto a 5-foot by 6-foot black canvas with clear glue as it appeared to be nothing. It wasn't until he steps back and throws two handfuls of gold glitter and splashes it onto the canvas. When the glitter settles, a portrait of Stern stares back.
Channing says, "No matter what happens now on AGT, I'm humbled and I appreciate the opportunity I've been given and I'm grateful to have performed in front of 14 million people at Madison Square Garden in NYC on NBC and speed painted one of my heroes, 'The King Of All Media', Howard Stern. Stern even asked if he could have the painting. It's not every day you can say that. Howard Stern's painting alone is worth the Million Dollar Prize. Stern was even kind enough to sign the painting."
Rumor has it former American Idol judge Simon Cowell gave the Howard Stern Glitter Painting a two thumbs up.
Watch Robert Channing's clip here.
'You couldn't have picked a more spectacular subject than me to paint! I would love to see you again! An Enthusiastic Yes! I really Enjoy your work! What detail! I Loved the reveal at the end! Wow!' -- Howard Stern, "King of All Media" & The Howard Stern Show
"That was HOT! WOW!" -- Nick Cannon, Host of "America's Got Talent"
"Oh My God!" shouted Mel B! "Wow! Wow! I thought IT was absolutely Amazing!! Why the @%&* didn't you paint me? Just Unbelievable!" Mel-B, Of The Spice Girls Singer/Actor
"Wow! I Loved It! I want you to paint Me next time? Amazing!" -- Heidi Klum Super Model, Fashion Icon
'I'm a Big Fan of speed painting. We've had speed painters before on the show, But Robert, You Took It To A Whole New Level! I Loved It! I Love the Twist at the end, I Love the Difference!!' -- Howie Mandel Comedian/Actor
Tune into 'America's Got Talent' on NBC Tuesdays at 8pm to see Speed Painter Robert Channing and Tweet if you want to see more of Robert Channing using #SpeedPainter #AGT @nbcagt @HowardStern