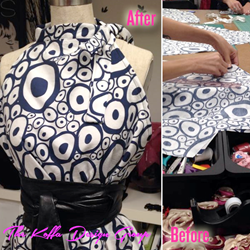 Having the ability to alter your own clothing can save you money and you will save time.
Pasadena,CA (PRWEB) June 28, 2014
The Koffa Design Group is offering new fashion seminar courses in clothing alterations. The workshops are designed to help individuals learn how to alter clothing to achieve a better fit.
Koffajuah Toeque-Slyusar, fashion professor and owner of The Koffa Design Group stated, "Having the ability to alter your own clothing can save you money and time in the long run."
"When making alterations it is important to make sure seams are sewn accurately and that the garment looks good when you wear it."
However, Professor Toeque-Slyusar does not recommend going in your closet and taking your clothing apart just yet. "The key to getting good at clothing alterations is practice."
Just like any new skill learned, Professor Toeque-Slyusar states that practicing on old clothing or getting inexpensive looks from the dollar rack at your local thrift store can be your first step to understanding alterations. In addition, if you have no prior knowledge or experience using a sewing machine, Professor Toeque-Slyusar recommends taking a basic sewing class like her firm offers.
To learn more about The Koffa Design Group Sewing classes, workshops, and to see what other students have done go to the social media page: https://www.facebook.com/thekoffadg?ref_type=bookmark.
The Koffa Design Group is a Course driven studio that offers courses for individuals who have a passion for learning fashion design and apparel business techniques. http://www.thekoffadg.com.
https://www.youtube.com/watch?v=qOZ4UVmUCFg&feature=youtu.be