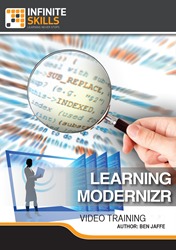 Learn Modernizr at your own pace.
(PRWEB) June 27, 2014
Software training firm Infinite Skills Inc. last week introduced its "Learning Modernizr Tutorial," an introductory course for practicing web designers and developers that teaches the essentials of browser support detection with this useful and simple program.
Modernizr is a JavaScript library that runs alongside page load to check a browser for features. It then creates a JavaScript object with the results and adds classes to the HTML element to key CSS code. The program supports a wide variety of tests, making it easy for developers to manage enhancements to websites.
Infinite Skills' Learning Modernizr Tutorial" starts with the basics of loading the program onto a web page and creating a custom build, and advances to its capabilities for conditionally running JavaScript.
Learning Modernizr Tutorial - Streaming Video
Course author Ben Jaffe is a freelance front-end web developer and instructor in the San Francisco Bay area. He has several years of experience in software development, as well as teaching and consulting. In addition to training and media development, Jaffe is the co-host of the radio show and podcast, Geek Speak.
Here, Jaffe begins by explaining Modernizr's basic functionality, as well as when and where to use it best.
He provides detailed instruction on acquiring and setting up Modernizr, and then moves quickly into its basic functionality, explaining progressive enhancement in CSS, Modernizr classes, and working with sites without JavaScript.
The course concludes as Jaffe explores Modernizr's use with JavaScript, explaining the Modernizr object, conditionally running JavaScript, adding custom tests, and several lessons looking at Modernizr's extended features which allow developers to test media queries, styles properties, and whether browsers support various events.
"Modernizr is an up-to-date fantastic JavaScript feature-detection library," Jaffe says.
"In this course, we'll go in-depth, explaining all of Modernizr's essential functionality and how to begin using its advanced features."
Free demo videos and a full list of course contents can be found on the Learning Modernizr training page of the Infinite Skills website:
http://www.infiniteskills.com/training/learning-modernizr.html
Infinite Skills offers its Learning Modernizr Tutorial as a direct download from the company website at a retail price of $24.95, or as part of its subscription streaming service available at a rate of $25 per month. All titles and formats are compatible with Mac and Windows operating systems. Shipping is available around the globe. Additionally, Infinite Skills tutorials are supported by project files which correspond to examples in the videos, allowing users to work alongside experienced instructors right on their computer or iPad.
About Infinite Skills Inc.
A leader in the field of software training, Infinite Skills designs its courses on a task-oriented model, teaching complex skills by providing hands-on examples and guiding users as they carry out essential functions. Infinite Skills offers a wide range of software titles available as DVDs, digital downloads, and in iPad editions. Infinite Skills now offers a subscription service, providing access to all its training content for a monthly fee, keeping with company's aim of delivering professional training to customers anywhere they want to learn.