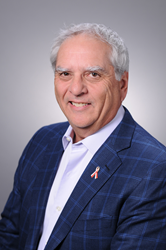 Germantown, MD (PRWEB) June 26, 2014
Patients who wish to receive implant supported dentures and dental implants in Germantown can now receive treatment from Dr. Steven N. Rice, an experienced periodontist at the Advanced Laser Gum Surgery – Institute of Washington. Dr. Rice is pleased to extend his practice in the hopes that he can utilize his skills to replace missing teeth and more permanently restore smiles in patients throughout the area.
Unlike traditional dentures which often click and slip when not properly fitted, implant supported dentures are anchored to the jaw by strategically placed implants. These dental implants in Germantown are surgically embedded within the jaw bone to provide the stability and security that patients desire. These dentures can be worn in either the lower or upper jaw, but are most often used in the lower. Dr. Rice can replace missing teeth by providing patients with an implant supported denture that snaps into place, or patients can choose to be fitted with a fixed implant supported denture that acts more like permanent teeth and cannot be removed.
Dr. Rice offers two different kinds of dentures that are supported by dental implants for Germantown patients. Bar retained dentures require the placement of three to four implants at strategic locations in the jaw. Once the implants heal for a sufficient amount of time, a supporting bar is then attached to the implants and the structure is permanent and strong. The denture can then be snapped on and off as the patient desires. The alternative denture is ball retained and employs a ball and socket design. Like the bar retained denture, implants are placed at certain points in the jaw to facilitate easy attachment. These implants have a small ball structure at their head which fits into a socket located on the denture, providing a snug fit. Wearers are able to replace missing teeth with a strong, long lasting option.
Implant supported dentures are an effective option for many people who are dissatisfied with regular dentures. Patients who wish to learn more about how implant supported dentures are placed, or who want to schedule an appointment, can find more information on The Advanced Laser Gum Surgery – Institute of Washington website or call their office.
About the Doctor
Advanced Laser Gum Surgery—Institute of Washington is a periodontal practice offering patients personalized dental care in Rockville, Maryland since 1981. Dr. Steven N. Rice received a Doctor of Dental Surgery degree from the University of Maryland School of Dentistry. He continued his education as a General Practice Resident in the United States Army, where he was awarded a Medal of Commendation. He studied periodontics at the Medical College of Georgia and was recognized as a Diplomat of the American Board of Periodontology upon completion. Dr. Rice is part of one percent of dental professionals providing the LANAP® FDA cleared laser procedure for gum disease treatment. To learn more about Advanced Laser Gum Surgery—Institute of Washington and their dental services, visit their website at http://www.advancedgumsurgery.com and call (240) 747-7355.