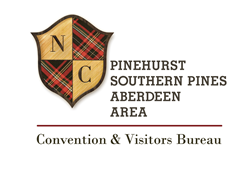 Southern Pines, NC (PRWEB) June 27, 2014
The North Carolina Department of Commerce (Commerce), NC Division of Tourism (Division) in partnership with the Pinehurst, Southern Pines, Aberdeen Area Convention & Visitors Bureau (CVB) capitalized on June's history-making golf events at Pinehurst to showcase North Carolina's assets as a destination for golfers and other travelers. Joining the NC Department of Commerce's promotion of the state's opportunities for economic growth, the CVB and the Division hosted 26 national and international media members, group tour operators, and representatives from the film and sports industries as the U.S. Opens unfolded on Pinehurst's No. 2 course. In addition to watching major tournament play, hosted travelers teed up on courses that contribute to the state's standing as a premier golf destination.
With hospitality from statewide partners, three international familiarization tours took place during the championship weeks. Canadian writers and group tour operators toured Raleigh, Wilmington, and beach destinations in New Hanover and Brunswick counties with a stop in Pinehurst for the Men's Open. A party from the UK covered Charlotte, Asheville and Lake Lure then caught Friday's U.S. Open action. A German/Swiss group arrived Saturday to spend time in Charlotte, Asheville, Duck and Corolla and to watch Sunday's final round in Pinehurst. Much to their delight, a fellow countryman won – Martin Kaymer. In addition to the familiarization tours, member businesses from the American Bus Association and film and sports industry representatives benefitted from networking with the Division, Commerce, and the CVB's hospitality during the Open.
This year marks the first time that the U.S. Open and U.S. Women's Open championships were played on the same course back-to-back. This is the third time the men's event has taken place on Pinehurst No. 2. Pine Needles Lodge & Golf Club in nearby Southern Pines has hosted the U.S. Women's Open three times, most recently in 2007.
Within Moore County, prior to 9-11 and the recession, the destination had benefitted from international visitations and the spending it generated, but had to dial back promotional efforts due the impact of these events on the economy and available tourism marketing funds.
With all inbound travel levels back on the rise again, the Pinehurst, Southern Pines, Aberdeen Area Convention & Visitors Bureau has begun renewing its international marketing efforts, starting with these three markets: Eastern Canada with an emphasis on Toronto and Ottawa, the United Kingdom, and Germany (and German-speaking European countries).
Working closely with tour wholesalers to develop tourism product marks a significant difference when comparing domestic tourism marketing practices. These international companies are critical to first-time visitors to the United States. They provide essential services and are viewed as critical in re-establishing a desirable destination for these international markets.
One primary benefit of international visitors is that their length of stay and spending levels are significantly higher than domestic travelers to North Carolina. On average, overseas visitors' impact on North Carolina destinations is 2.5 times greater than a typical U.S.-based traveler.
Caleb Miles, CVB President and CEO, commented, "The U.S. Open Championships provided an amazing opportunity to leverage the significant media attention afforded our state and region to a worldwide audience. The strategic initiative then is to grow these newly developed relationships with key international travel planner and media representatives into increased visitations for our destination."
In 2013 there were more than 660,000 international visitors to NC and overall travel to the U.S. from other countries was up a healthy 6 % over the prior year. Clearly, all indicators suggest these markets will be strong targets for promotional strategies in the future.