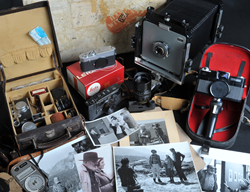 This is a rare opportunity to own an iconic camera used by one of, if not, the most prominent photgrapher of our time.
Wallingford, CT (PRWEB) June 28, 2014
This collection of historic photographic equipment can be traced back through Ansel Adams and three generations of the Morgan family. Spanning seven plus decades of use, this equipment has recorded iconic images of people, events and nature of twentieth century America.
The featured item is Ansel Adam's Arca-Swiss 4 x 5 view camera, used by the photographer from 1964 until 1968. Ansel Adams (1902-1984) was a prominent photographer of the American West, and his classic black-and-white images, most made with view cameras, helped to establish photography as a fine art, and Adams as one of the finest and most recognized photographers to date. Ansel Adams equipment, especially a view camera, rarely becomes available for sale, and this may be the first time one has been offered.
Also being offered is Willard D. Morgan's Leica IIIc, owned and used by Willard from 1946 to 1950. He is considered the "father" of Leica 35 mm photography in the United States—a technical writer and Leica designer—original Willard Morgan Leica equipment is both historically important and certainly highly collectible—a pivotal piece for any collection. Other items of interest include, Liliane DeCock's cameras, including a Zeiss Hologon, Douglas Morgan's Calumet view camera, a Leica Noctilux, a Kardon Signal Corps camera, and several Nikon, Canon and Alpa cameras and lenses.
More information on Ansel Adam's camera, as well as many other items, is available by visiting Revival Auctions. To be a participant in this auction, register for live, online bidding at Proxibid.
The Revival Auction Company conducts auctions of rare cameras and other historically significant items. Their digital auction catalogs are used worldwide as a reference tool and price guide, and are an excellent way to keep up with current pricing and trends. Visit the website to request your copy. To participate as a seller in our next event, visit the consigning page on our website for specific information.