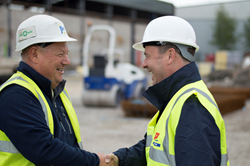 The team's ethos is to get it right first time and provide excellent customer service.
(PRWEB UK) 30 June 2014
National Hire Solutions provider, GAP Group Ltd, is thrilled to announce that it has been selected as a Finalist in the UK Customer Experience Awards 2014.
Now in their 5th year, the awards celebrate excellence in customer experience by organisations and businesses in varying industry sectors across the UK.
GAP is a finalist in the Transport, Automotive & Plant Hire category of these national awards following an entry submission that shows how 'GAP one Managed Services' looks after the requirements for GAP's 'Major' customers. GAP one offers one point of contact, a consistent approach and outstanding customer experience through a knowledgeable and dedicated team.
Finalists in each of the categories will present their entry to a team of Judges at ExCeL London on the 25th September 2014. After the judging has taken place, the winners will be announced during a gala luncheon – a well-deserved reward for finalists, judges and guests!
Owned by Awards International, operators of the new UK Digital Experience Awards, the awards are run in partnership with Customer Experience Magazine and Cranfield School of Management.
Neil Skehel, Managing Director of Awards International, said:
"This year's awards are bigger and better than ever and we are very excited to be bringing the awards to ExCeL London! To everyone that entered, we'd like to thank you for sharing your work with us. To the finalists, congratulations and good luck in the final round! We look forward to celebrating and rewarding your success at the awards ceremony."
Shaneen Waddell, Head of GAP one, said:
"A single call from our customers to GAP one ensures that we would source the correct equipment from the nearest location and arrange delivery to their site, making the hire process efficient, reliable and easy to use. This approach delivers a number of benefits including surety of supply, timely and efficient delivery, as well as accurate invoicing. The team's ethos is to get it right first time and provide excellent customer service."
The awards will be supported by Customer Experience Magazine, which will feature the winners and stories about their customer experience initiatives.