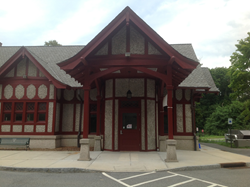 "As libraries transition from being a place for books to centers for community activity," said Terry Kirchner, WLS Executive Director, "the projects supported by this grant program are an excellent investment in our libraries
Tarrytown, NY (PRWEB) June 26, 2014
Below is a summary of the projects that these funds will enable.
Ardsley Public Library - Acquisition and installation of a whole building generator and upgrade to the HVAC system. Awarded Amount: $17,469.
Bedford Hills Free Library* - Lighting and climate control for their 153 year-old building will be updated, improving overall energy efficiency. Awarded Amount: $18,202.
Briarcliff Manor Public Library - Increasing Library Programming through Greater Usability: Creating accessibility, security, operational and space enhancements to existing Library and proposed adjacent Community Center to promote programming. Awarded amount: $84,969.
Eastchester Public Library - Children's Room Lighting Renovation: This project includes replacement of 39 fluorescent fixtures with LED energy-efficient fixtures and replacement of existing ceiling tiles. Awarded amount: $6,714.
Harrison Public Library - Main Library: Children's Room Renovation: This project will transform the Children's Room into an enhanced environment that will provide comprehensive services for the 21st century. [Part of Total Library Renovation=$3,500,000]. Awarded Amount: $44,969.
Harrison Public Library/West Harrison Branch Library - Window Replacement: 20 steel frame single pane windows will be replaced with heavy duty commercial frames with R5, .22UFactor windows. Awarded amount: $14,969.
Hastings-on-Hudson Public Library - Community Room Expansion: Expansion of a 1467-square-foot community room to 2067 square feet. This will allow greater attendance for library and community based programs. Awarded amount: $59,969.
Larchmont Public Library - Library Roof Repair & Replacement: Replace the front two sections of the library roof and make repairs to the two rear sections of the library roof to prevent damage to the library. Awarded amount: $49,969.
Lewisboro Library - Lighting Upgrades: Lewisboro Library will refurbish existing & install new lighting on building exterior and interior to reduce energy costs and provide more light. Awarded amount: $44,969.
Mount Pleasant Public Library - Major Mechanical Items: Replacement of the main air handler, heating pumps and sump pumps and installation of an air vent in the elevator mechanical room. Awarded amount: $64,969.
New Rochelle Public Library * - Main Library: Patron Facility Restoration Project - Phase I: Main Library upgrades include installation of systems furniture, new electrical wiring to support the systems furnishing, carpeting and painting. Awarded amount: $64,969.
New Rochelle Public Library/Huguenot Children's Library* - Branch Library: Interior Lighting & Seasonal Storage: This grant will allow for installation of interior task lighting. Storage will be installed at the cellar level. Awarded amount: $11,625.
Pound Ridge Public Library - Mold/Asbestos Remediation & Necessary Renovation: Mold/asbestos remediation; subsequent library reconstruction/renovations and updates. Awarded amount: $54,972.
White Plains Public Library * - Funding is sought for renovation of the 1st Floor to include construction of a Learning Commons for Adults. [Part of Total First Floor Renovation Project=$4,375,000]. Awarded amount: $67,469.
Yonkers Public Library * - Technology Training Space: To construct a training space of approximately 1700 square feet at the Riverfront Branch for technology instruction, A/V editing and "makerspace" activities. Awarded amount: $74,946.
*Met criteria for economically disadvantaged community.
About the Westchester Library System
The mission of the Westchester Library System (WLS) is to ensure that all residents have seamless access to excellent library service throughout Westchester County. WLS provides model programs, affordable and easy-to-use information technology, and support services that enable its 38 member public libraries to continuously improve service to their communities. For more information, visit http://www.westchesterlibraries.org