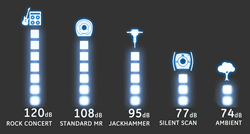 Berkeley Heights, NJ (PRWEB) June 30, 2014
Summit Medical Group, New Jersey's oldest and largest multispecialty physician group, today reported they are the first in New Jersey to install Silent Scan, a revolutionary technology that dramatically quiets MRI exams. Developed by GE Healthcare, Silent Scan addresses one of the most significant impediments to patient comfort — excessive acoustic noise generated during an MRI scan. With Silent Scan, patients and families who undergo a brain MRI scan at Summit Medical Group Imaging will now experience a quieter, more relaxing scanning environment.
In a standard brain scan, a patient's head is inside the scanner bore, requiring ear protection. The noise made by an MRI machine – above 100 decibels -- is a result of mechanical vibrations that happen during the scan. The technology is now focusing not just on image quality but the patient experience." says Neil Horner, M.D., radiologist at Summit Medical Group. "Silent Scan translates into less stress for some patients, easier communication between technologist and patient, and less likelihood of patient movement, preventing the need for repeating studies."
Historically, medical manufacturers have addressed the noise issue by using a combination of acoustic dampening material or performance degradation to reduce the noise level. Silent Scan is a radically new type of 3D MR image acquisition. Combined with proprietary high-fidelity gradient and RF system electronics, noise is not merely dampened; it is virtually eliminated at the source.
"Patients have described the noise inside a scanner like a freight train, a jack hammer, or the front row seat of a rock concert," notes Kathie Vendemia, associate director of Imaging at Summit Medical Group. "Now with Silent Scan, our patients aren't subjected to that loud clanging. Instead, they only hear the hum of the system running."
Hear the difference, and for more information on Silent Scan at Summit Medical Group, visit http://www.summitmedicalgroup.com.
About Summit Medical Group
Summit Medical Group (SMG) is the largest privately held multispecialty medical practice in New Jersey. SMG maintains a 42-acre healthcare campus in Berkeley Heights and 37 additional practice locations in Essex, Hudson, Morris, Somerset and Union counties. As an East Coast premier multispecialty group, SMG has provided exceptional primary and specialty care since 1929. For more, visit http://www.summitmedicalgroup.com.