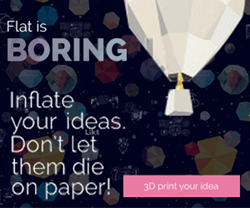 (PRWEB) June 30, 2014
People are always bursting with ideas and CGTrader believes that anyone deserves a chance to experience, touch and feel what 3D printing is really capable of. Therefore, people from all around the world will have the opportunity to demonstrate their creativity by sharing even the craziest thoughts that will later be turned into real objects, as pure evidence that ideas can be touched and sensed. Community-based 3D marketplace CGTrader.com is taking on the challenge to turn any proposed idea into a 3D printable model and Shapeways, the world's largest 3D printing service will 3D-print it and deliver it to your home.
The mechanics of this campaign are simple: The idea creator uploads his flat idea, gets upvoted and if the idea is among the top 10 - it gets materialised. Anyone who has ever dreamt of bringing their big, small, modest or mind-blowing ideas to life will have the chance to do that.
The only luck factor needed to get into the top 10 is an original idea. Everyone is encouraged to show that smart technologies are for smart people.