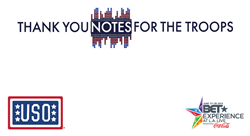 The USO has a long standing relationship with the entertainment industry...," said John I. Pray, Jr., interim CEO and President of the USO. "... and I am proud to note that BET is part of this rich history...
Arlington, VA (PRWEB) June 26, 2014
Twitter:
Stop by @the_USO at @BETExperience Fan Fest to send 'Thank You Notes' to troops, and enter to win tickets to #BETAwards #USOmoments.
What:
Mobile USO Onsite at BET Experience Fan Fest 2014
When:
Saturday, June 28, 2014
12:00 p.m. – 9:00 p.m. PST
Sunday, June 29, 2014
12:00 p.m. – 5:00 p.m. PST
Where:
Los Angeles Convention Center (South Hall)
1201 S. Figueroa Street
Los Angeles, California 90015
Note: USO video and photos available upon request.
Why:
In celebration of African American Music Appreciation Month and the USO's "Every Moment Counts" campaign, the USO will soon deploy one of its four customized, camo-covered Mobile USOs to the BET Experience Fan Fest. The 40 by 10 foot 'USO center on wheels' will be parked inside the Los Angeles Convention Center (South Hall), June 28 – 29. While onsite, the Mobile USO will invite attendees to create and send personalized "Thank You Notes For The Troops" via social media, and offer visitors the opportunity to win a pair of tickets to the BET Awards Show on Sunday, June 29th at 8 p.m. EST/7 p.m. PST. Adding to the excitement, the USO (courtesy of BET Television and the Bob Hope Hollywood USO at LAX) will also provide 12 local service members with free tickets to Sunday's show hosted by Chris Rock.
The USO is the only non-profit organization focused on troops and military families participating in this year's BET Experience Fan Fest – America's largest free fan festival celebrating music, entertainment, and culture. Capitalizing on its rich entertainment history, the Mobile USO will also feature several surprise celebrity appearances.
Fan Fest attendees visiting the Mobile USO will be asked to write a message of support, take a quick photo onsite, and post their personalized 'Thank You Note' on Twitter and Instagram using the #USOmoments hashtag, thereby allowing their notes to automatically be seen by troops around the world. The USO's "Thank You Notes For The Troops" is part of the "Every Moment Counts" campaign – a year-round, national initiative that rallies Americans to honor and create moments that matter for our troops and their families. "Every Moment Counts" refers to the countless, every day moments – from family dinners and date nights to childbirths and bedtime stories – that our nation's troops and military families sacrifice in service to our country. Sending 'Thank You Notes' reminds the nation that no moment, big or small, should be taken for granted, and that the simplest actions can make all the difference.
The Mobile USO is designed to support troops serving in remote areas and locations without a USO center by providing a comfortable place for them to relax and connect online with family and friends during downtime. Each Mobile USO offers laptops, large screen televisions, video game consoles, Wi-Fi access, casual seating, refrigerators, coffee makers, microwaves, and ample seating.
On February 4, 2014, the USO celebrated its 73rd year of creating special moments for our troops and military families. Every single day, USO staff and volunteers worldwide create 30,000 special moments. As of May 2014, the USO has deployed 43 celebrity entertainers on 32 moment-filled entertainment tours to 14 countries and 13 states, entertaining more than 60,554 troops and military families stationed around the world. For more information on the "Every Moment Counts" campaign, please visit USOmoments.org or join the conversation on Facebook and Twitter using #USOmoments.
Quote attributed to John Pray, Interim USO President and CEO:
"The USO has a long standing relationship with the entertainment industry and I am proud to note that BET is part of this rich history. Through our unmatched partnerships with like-minded organizations, we have created literally millions of special "entertainment" moments for our troops and their families wherever they may be serving around the world. Thanks to the generosity of celebrity supporters, some of whom are a part of the BET family, we are able to show our deep appreciation for all these amazing men and women do to protect the freedoms we enjoy daily. Gratitude is one of our core values and I would like to thank the BET Foundation for extending the opportunity for the USO to participate in the 2014 BET Experience. Through our Mobile USO, we will be able to offer BET fans an opportunity to not only send thank you notes to troops, but also experience first-hand how the USO accomplishes our "spirit-lifting" mission."
About the USO:
The USO lifts the spirits of America's troops and their families millions of times each year at hundreds of places worldwide. We provide a touch of home through centers at airports and military bases in the U.S. and abroad, top quality entertainment, and innovative programs and services. We also provide critical support to those who need us most, including forward-deployed troops, military families, wounded warriors, troops in transition, and families of the fallen. The USO is a private, non-profit organization, not a government agency. Our programs and services are made possible by the American people, support of our corporate partners, and the dedication of our volunteers and staff.
In addition to individual donors and corporate sponsors, the USO is supported by President's Circle Partners: American Airlines, AT&T, BNSF Railway, Clark Construction Group, LLC, The Coca-Cola Company, Grand Canyon University, JCPenney, Jeep, Johnson & Johnson, Kroger, Northrop Grumman Corporation and TriWest Healthcare Alliance and Worldwide Strategic Partners: BAE Systems, BIC, The Boeing Company, ConAgra Foods, FedEx, Lockheed Martin, Microsoft Corporation, Procter & Gamble, TKS Telepost Kabel-Service Kaiserslautern GmbH & Co. KG and Wawa Inc. We are also supported through the United Way and Combined Federal Campaign (CFC-11381). To join us in this important mission and to learn more about the USO, please visit uso.org.