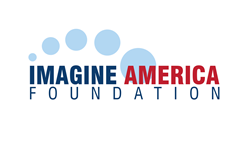 Washington, DC (PRWEB) June 26, 2014
The Imagine America Foundation (IAF) has been fortunate to benefit from the right leadership at the right time. IAF is honored to announce the continuation of its great leadership tradition with the appointment of one new IAF board member, Steven M. Blicht, Chief Operating Officer of Ambassador Education Solutions. Steven has a passion for career education institutions and the students attending them.
"No organization in the career education sector does more for students than the Imagine America Foundation," Blicht said. "I'm looking forward to the opportunity to work alongside so many distinguished members of the career education community and help take the Foundation's mission to new levels of success."
Throughout his career, Blicht has forged key relationships with influential academic leaders and worked directly with them to implement processes and technologies that streamline operations, save money and provide exceptional student experiences. As co‐founder of Ambassador's bookstore division, he has expanded its technology and service models to stay ahead of the ever-changing course materials needs of administrators, faculty and students. Previously, Blicht, a graduate of Hofstra Law School, practiced law at a prominent firm.
IAF would like to thank the current Board of Directors for their invaluable service:

Chairman: Daniel A. Levinson, Ex'pression College
Past Chairman: Russell "Wicker" Freeman – Coyne College
Vice Chairman: Dennis Spisak, DJSpisak Consulting
Treasurer: Christopher M. Cimino, C.M. Cimino Holdings LLC
President/CEO: Robert L. Martin, Imagine America Foundation
Steven M. Blicht, Ambassador Education Solutions
Danny Finuf, Brown Mackie Colleges (EDMC)
Dan Inman, Consultant
Piper Jameson, Lincoln Educational Services
Tracy Kreikemeier, PlattForm Advertising
Jonathan Liebman, Specs Howard School of Media Arts
Darryl Mattox, Gragg Advertising
Keith Zakarin, Duane Morris, LLP
For more information about Imagine America Foundation Board of Directors visit http://www.imagine-america.org or contact Robert L. Martin, President/CEO of the Imagine America Foundation at 571-267-3012 or bobm(at)imagine-america(dot)org.
About the Imagine America Foundation
The Imagine America Foundation (IAF), established in 1982, is a not-for-profit organization dedicated to providing scholarships for education, research and training support for the career college sector. Since its inception, the Foundation has provided more than $110 million in scholarship and award support for graduating high school seniors, adult learners and U.S. military personnel attending career colleges nationwide through its award-winning Imagine America programs. The Foundation also publishes vital research publications for the higher education sector, honors achievement in career education and offers comprehensive financial literacy education to thousands of enrolling career college students through its Financial Planning Made Simple tool. For more information about the Imagine America Foundation's programs, please visit http://www.imagine-america.org.