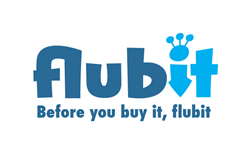 We've generated thousands of new users through our points and referral based loyalty scheme and our customers use those points to enhance their experience.
London (PRWEB UK) 27 June 2014
Since launching in October 2012, ecommerce technology startup Flubit has been quietly going about its business already saving online shoppers over £1.5 million and driving large volumes of orders to UK online retailers.
Flubit.com is an online shopping service that creates better, personalised offers on products that customers are ready to buy. It doesn't list products but instead empowers consumers to demand a cheaper price on products they want, whenever they want. It works closely with hundreds of independent UK online retailers, across multiple verticals to create private, discounted offers for its users.
Flubit CEO and Founder Bertie Stephens explains the vision. "Our unique demand-led buying model gives consumers better prices on products they actually want and UK online retailers a real alternative to the existing major marketplaces. Through Flubit.com and our partners, we've created a lucrative new sales channel giving access to millions of customers, where merchants don't have to pay excessive commissions and sacrifice their margins."
The recently announced partnership with Barclaycard represents an exciting new opportunity, which could benefit thousands of UK online retailers as well as millions of consumers, but Stephens sees data and innovation as key to Flubit's success. "To keep our users coming back time and again, we've made Flubit.com as engaging as possible and have introduced an element of gamification through the intelligent use of data and our loyalty programme. We've generated thousands of new users through our points and referral-based loyalty scheme, and our customers use those points to enhance their experience."
Having already delivered some impressive metrics, including a 30% sales conversion rate, and 1 in 2 customers returning to buy each month, Flubit also achieved recognition in 2013 by winning the London Web Summit competition. However, for Stephens, there is still a lot more to do. "The size of our current product inventory already makes us one of the biggest ecommerce marketplaces around but we are still aggressively growing our merchant base. We've got ambitious plans for the future and are continuing to look to innovate and disrupt. This, coupled with partnerships such as Barclaycard, gives Flubit the potential to transform e-commerce in the UK for both consumers and retailers."
Interested online retailers can find out more about selling on Flubit.com and its partners at weflubit.com.
About Flubit:
Founded in 2012 by Bertie Stephens and Adel Louertatani, Flubit.com is a platform that creates better offers for consumers on products they are ready to buy.
Flubit helps smaller merchants compete with e-commerce giants without having to sacrifice their margins. WeFlubit.com is the merchant facing website which allows online retailers the ability to sign up to the platform.
Online merchants can sign up to WeFlubit.com and can automatically sell on both Flubit and Barclay's new platform. Online sellers who register today will not have to pay a registration fee.
Flubit's conversion rate is more than 25% (almost 10 times industry average) and was named Startup of the Year at the London Web Summit in 2013.
For more information or for an interview, please contact Gary Dalton, Head of Marketing on 07919 573701.