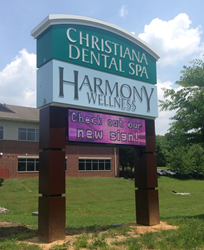 This sign is a perfect example of what our company can accomplish for any business looking for attractive digital signage.
Newark, DE (PRWEB) June 30, 2014
Christiana Dental Spa and Harmony Wellness Center and Spa strive to promote a friendly and professional environment for their clients whether they need the latest advances in dentistry or help achieving peace, relaxation and renewal of both mind and body. To continue this experience, they approached KC Sign & Awnings to help them design, build and install a new beautiful and tranquil, yet visible, landmark to attract new and existing clients. The perfect combination of an aesthetic architectural identification sign and a full color LED message display was achieved.
Christiana Dental and Harmony Wellness are located along a busy 6-lane road which provided a challenge for anyone to find them. They needed a landmark to simply help them stand out and get noticed. KC Sign and Awnings put pencil to paper and sketched out a decorative and eye-catching design. The top of the sign boasts back-lit aluminum cut faces with raised push-through acrylic lettering and dimensional cap trim. A dynamic full color LED sign, provided by Vantage LED, is incorporated below that displays beautiful custom messages to passers-by. The entire sign is installed on two steel poles boxed out with aluminum cubes stacked on top of each other.
"The new sign looks wonderful!" exclaims Linda Nguyen, owner of Christiana Dental Spa.
Joe Clark with KC Sign stated, "This sign is a perfect example of what our company can accomplish for any business looking for attractive digital signage. We were chosen by Ms. Nguyen because of the fast response time, creative design, and competitive pricing."
Clark continued, "And, we recommended using Vantage LED for the LED display because of the quality they produce. When you put a large investment into a sign like this you want it to work and Vantage provides displays that carry a 5 year parts and labor warranty."
Integrating LED signs with architectural signage can be challenging, but KC Sign & Awnings delivered with smart engineering, production, and quality components. They produced a landmark sign that maintains the peaceful visitor experience Christiana Dental and Harmony Wellness were looking for.
KC Sign and Awnings has been providing interior and exterior signage to the Mid-Atlantic Region for over 20 years, and have seen steady growth over that time. Originally in a single 2,000 square foot building, they now operate 3 locations serving the PA, DE, NJ, and MD areas, and manufacture signage at their 25,000 square foot facility in Aston, PA. They offer a wide variety of sign products, including awnings, channel letters, digital printing, electric signs and more. Additionally, they provide a full range of services like permitting, design, installation, project management, and service calls both locally and nationwide.