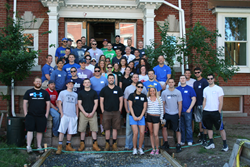 Boston, MA (PRWEB) June 27, 2014
On Friday, June 20th, over 50 staff members from the Boston accounting firm of Feeley & Driscoll, P.C. volunteered their time to the Merrimack Valley Habitat for Humanity, marking the 15th consecutive year that Feeley & Driscoll has partnered with the organization. The Feeley & Driscoll team had the privilege of working at the former St. Patrick Parish Convent in Lawrence, MA. Erected in the early 20th century, the convent once was home to over 30 nuns serving in local parochial schools and hospitals. Habitat for Humanity plans to convert the 16,000 square foot structure into ten condos over the next several years. The units within this complex are being constructed to uphold Energy Star standards, which means each house will be 15-30 percent more energy efficient than a traditionally built home.
Feeley & Driscoll and its staff take an active role in the greater Boston community. In addition to Habitat, the Firm participates annually in events benefiting a myriad of organizations, including: the JPMorgan Chase Corporate Challenge; the Jimmy Fund – Dana Farber Cancer Institute; the Women's Lunch Place; Goodwill of Boston; and Toys for Tots.
Feeley & Driscoll, P.C. is a Boston accounting firm employing 120 people with offices in Boston, Massachusetts and Nashua, New Hampshire. For over 40 years, Feeley & Driscoll has focused its expertise to build profitability for its clients in Massachusetts, New Hampshire, Rhode Island, Connecticut, Vermont, Maine and internationally. The firm has provided high-quality assurance, tax and business consulting services to an array of industries, including clean technology, high technology, biotechnology, life sciences, construction, architects and engineers, nonprofit organizations, healthcare, manufacturing and distribution, litigation, forensics, and information technology. For more information regarding the firm's services, please call 1-888-875-9770 or visit http://www.fdcpa.com.
The Merrimack Valley Habitat for Humanity is a non-profit organization that builds and rehabilitates homes using volunteer labor and donated materials. In their 29-year existence they have built over 69 homes and rehabbed 10 homes in Lawrence and surrounding communities for people in need of safe, decent, affordable housing. If you would like further information on volunteering your company's time and experience, contact the Merrimack Valley Habitat for Humanity by calling (978) 681-8858 or emailing info(at)MerrimackValleyHabitat(dot)org (visit http://www.habitat.org for a local affiliate near you).