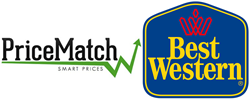 PriceMatch's platform will allow Best Western hoteliers to implement an efficient revenue management strategy and focus more on our core business: welcoming clients
Paris, France (PRWEB) June 26, 2014
Best Western France has chosen PriceMatch as the official Revenue Management Solution for its members. Already in use in numerous Best Western hotels, PriceMatch's platform was further developed to fit the specific needs of Best Western hotels, and is the result of the collaborative effort between the PriceMatch technical team and Best Western's revenue managers.
The PriceMatch technical team developed numerous new features to prepare for the partnership, including providing recommendations on when to close booking channels, based on occupancy figures and commission costs. These new features will allow Best Western to offer its members new and more sophisticated distribution-support tools. Best Western members are now able to market their rooms through whatever distribution channel is currently the most cost effective, and gives an interesting alternative to Online Travel Agency (OTA) offers.
Thanks to the partnership, Pricematch is now the market leader in cloud-based revenue management solutions and now offers even more sophisticated data processing, extremely relevant for large hotel chains.
"The partnership between Best Western France and PriceMatch is a great opportunity for both companies. The Best Western hotels are all unique, so it is very important for us to offer custom-made solutions. PriceMatch's platform will allow Best Western hoteliers to implement an efficient revenue management strategy and focus more on our core business: welcoming clients," said Olivier Cohn, CEO of Best Western France.
"After working closely with several Best Western hotels for the past few months, PriceMatch is very proud to officially announce this partnership. Best Western France and PriceMatch are two very innovative companies, working together towards revenue maximisation. Best Western is known worldwide for its dynamism and the quality of its services, so we hope that if we can satisfy them, we will be able to satisfy anyone. We are looking forward to a long-lasting and profitable relationship," said Khalid El Guitti, Sales Director at PriceMatch.
About PriceMatch
PriceMatch provides an innovative and easy-to-use revenue management solution designed for both hotel managers and experienced revenue managers. Using big data and advanced econometric tools, the PriceMatch algorithm provides pricing recommendations through an extremely user-friendly website. Our account managers and engineers can provide you with a personalized experience to help optimize your RevPar.
More info at https://www.pricematch.travel/en/
About Best Western
With over 4000 properties in more than 100 countries, Best Western is a hotel cooperative that unites independent hotels but allows them to maintain their unique style and character. With over 300 three, four and five star hotels, Best Western France is the largest international hotel chain in France.
More info at http://www.bestwestern.fr/en/