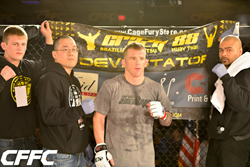 "Jon works extremely hard to become good at what he does. I have no doubt that we will see him and his students in the big show very soon!"- Jon Connelly, Training Partner
Ellicott CIty, MD (PRWEB) June 26, 2014
Baltimore area Mixed Martial Arts (MMA) fighter and Head Mixed Martial Arts Coach Jon Delburgge, took a monumental step forward in his coaching career by cornering long time teammate and training partner Mike Easton on June 14, 2014. The fight between Mike Easton and Yves Jabouin, took place at the Rodgers Arena in Vancouver, Canada.
Coach Jon Delbrugge of Crazy 88 Mixed Martial Arts has not only been one of the top Professional Mixed Martial Arts (MMA) competitors in the Baltimore area but also has been coaching and cornering fighters at many different levels in MMA competition. Two Saturdays ago Delbrugge was featured on the FX Card portion of the UFC (Ultimate Fighting Championships) 174 cornering Mike Easton. The fight took place on June 14, 2014, and was held at the Rodgers Arena in Vancouver, Canada.
Ultimate Fighting Championships serves as the Worlds's top MMA promotion. and considered the highest form of MMA. The fights are broadcast live on Pay Per View, as well as Fox, Fox Sports 1 and FX. This makes Delbrugge's opportunity to Coach in the UFC a very valuable one.
Jon Delbrugge has been training, competing and coaching in MMA and BJJ for over six years. Holding a brown belt under Master Julius Park, Delbrugge is highly credentialed in the world of BJJ. He has won and placed at international competitions including the Brazilian Nationals, Pan American and the European Open. He has also spent over a month and a half total training Muay Thai kickboxing in the sport's native country, Thailand. In MMA, he currently has a record of four wins and one losses. He has cornered fighters that have fought in other top organizations such as Ring Of Combat (ROC) Caged Fury Fighting Championships (CFFC) and Bellator Fighting Championships (BFC). His teammate, fan favorite Mike Easton, is an MMA fighter from Washington D.C. with a record of thirteen wins and fives losses, and is currently ranked as the 8th bantamweight (135 pounds) in the world.
Delbrugge keeps himself busy teaching and training four to six hours a day, running his own MMA facility in Owings Mills. Many fighters and competitors are discouraged at the thought of doing both simutaneusly, but Jon has accepted his roles graciously. Jon's ultimate goal is to not only fight in the UFC, but to also have his students make it there as well and he has worked hard to get himself closer to these goals. Training partner, Jon Alexander Connelly said, "Jon works extremely hard to become good at what he does. I have no doubt that we will see him and his students in the big show very soon!"
For the best Martial Arts training in Howard County MD, please contact:
Crazy 88 Mixed Martial Arts
7024 Troy Hill Dr, Suite L
Elkridge, MD 21075
443-283-1450
or visit http://www.BaltimoreMixedMartialArts.com
For information on training in Baltimore County, please contact:
Crazy 88 Mixed Martial Arts
5 Easter Ct, Suite E
Owings Mills, MD 21117
410-999-1064
or visit http://www.Baltimore-MMA.com