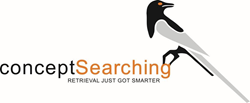 Although information governance is widely written about, compliance in the cloud should be a high priority for any organization evaluating Office 365.
McLean, VA, US and Stevenage, UK (PRWEB) July 08, 2014
Concept Searching, the global leader in semantic metadata generation, auto-classification, and taxonomy management software, and developer of the Smart Content Framework, will be hosting a webinar on Tuesday, July 22nd, at 11:30am-12:30pm EDT. Registration is now open for 'Compliance in Office 365 – What You Should Know.'
This highly informative webinar is based on the positive feedback from a recent Concept Searching SharePoint and Office 365 speaking engagement. Although information governance is widely written about, compliance in the cloud should be a high priority for any organization evaluating Office 365. The same precautions that are taken in an on-premise environment to ensure compliance and information governance are equally important in the cloud. Office 365/Microsoft Online poses the same challenges as SharePoint on-premise, and organizations need to proactively manage information in the cloud the same way.
Many organizations are ignoring this issue simply because they view Office 365 as a collaboration venue and don't equate it with the same business risks and challenges as SharePoint. Register now for this webinar that will cover the ins and outs of compliance using Office 365 in conjunction with conceptClassifier for Office 365. Understand why records, security breaches, migration issues, search, collaboration, social tagging, and eDiscovery and litigation support are equally if not more important in the cloud than on-premise.
What attendees will take away:

Understand the issues in Office 365 regarding compliance and overall information governance
Learn how an integrated enterprise approach, including SharePoint on-premise and Office 365, can be achieved and why it is important
See live demos on how conceptClassifier for Office 365 addresses records identification, security, search, collaboration, and social content in the cloud
Find out why ignoring the challenges can result in unnecessary risks, costs, and non-compliance
Hear a real-life client scenario about an organization that deployed Office 365 for 170,000 users and how it approached and solved these challenges
conceptClassifier for Office 365 is currently the only solution in the market that enhances search, automatically identifies documents of record, secures confidential information from unauthorized access, provides intelligent migration, automates social tagging, provides the framework for collaboration, and improves any business process that utilizes metadata.
All registrants will be sent a link to the recording. Full details on all upcoming Concept Searching webinars, including registration links, are here.
The 15-minute 'How To' webinar series for July will be focusing on search in Office 365, on July 30th. Office 365 search is quite different from SharePoint search, and this webinar explores the differences and the limitations. Register for the 'How To Deploy Enterprise Strength Search in Office 365' webinar here to learn how to improve search results and manage search in a hybrid environment.
Both webinars would be of interest to Business and IT Professionals who are responsible for Cloud technologies and business processes, Security Professionals, Records Managers, CIOs, CTOs, SharePoint Architects, SharePoint Administrators, and Search Specialists.
About Concept Searching
Founded in 2002, Concept Searching is now the industry leader specializing in conceptual metadata generation, auto-classification, and taxonomy management. Platform agnostic, Concept Searching is also a Microsoft managed partner with a Gold competency in Application Development, and offers a complete suite of SharePoint solutions. The award-winning technologies integrated with Concept Searching's Smart Content Framework™ encompass the entire portfolio of unstructured information assets in on-premise, cloud, or hybrid environments. Clients have deployed the intelligent metadata enabled solutions to improve search, records management, protection of privacy data, migration, text analytics, eDiscovery, and Enterprise/Web 2.0.
Concept Searching is headquartered in the US with offices in the UK, Canada and South Africa.
All product and company names herein may be trademarks of their respective owners.