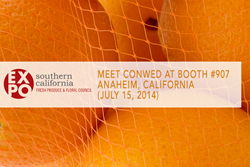 Minneapolis, MN (PRWEB) June 26, 2014
Conwed, the leading plastic netting manufacturer in the world, will be featuring its packaging portfolio at the Southern California Expo organized by the Fresh Produce & Floral Council in Anaheim, CA (Booth 907 - July 15, 2014).
The Fresh Produce & Floral Council is a community of professionals across all sectors of the fresh produce and floral industry that do business in California and the western region of the U.S. From growers, shippers and wholesalers to brokers, distributors and retailers, the Southern California Expo provides an opportunity to build relationships, exchange business knowledge and see emerging trends in the produce and floral industry.
Conwed will be highlighting its line of Vexar® Mesh Bags and its diverse netting configurations for all automated produce packaging equipment including: vertical form, fill and seal machines, soft-net automatic welding machines and clipping machines. Vexar® Mesh Bags are made from soft, flexible diamond plastic mesh that can gently conform around delicate produce and is strong enough to contain and protect different loads.
"Our packaging nets are soft and flexible but also provide exceptional tensile strength for a wide range of packaging applications. Your produce look fresh and in the best condition due to the superior breathability our mesh configuration offers", said Bart Sistrunk, Business Unit Manager at Conwed. "
In addition, Conwed offers Vexar® Mesh Bags with a header. Commonly known as header bags, they are an ideal option for retail branding of produce. Vexar® Header Bags maintain a tighter, attractive, cylinder shape when loaded, even in slanted displays. They are easy to load, can be closed with nearly any closure and are available in a variety of shapes to accommodate automated or hand loading. "Whether you need generic labels or your existing brand, Conwed offers customized header labels to improve visibility and brand recognition", said Sistrunk.
With over 45 years of experience driving innovation in netting technology, Conwed prides itself in working closely with customers to identify their specific needs and develop customized packaging solutions. For a complete overview of the packaging solutions Conwed offers, visit http://www.conwedplastics.com
About CONWED
Conwed is the leading plastic netting manufacturer in the world. Conwed manufactures extruded, oriented and knitted netting with unique customization capabilities. Headquartered in Minneapolis, Minnesota, Conwed has five manufacturing locations on two continents and a global distribution network.