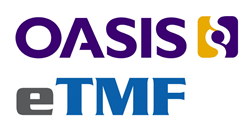 "SureClinical congratulates the OASIS eTMF Standard Technical Committee members who participated in the development of this important specification." --Zachariah Schmidt, SureClinical CEO
Rancho Cordova, CA (PRWEB) June 26, 2014
On June 25th, the global clinical trials industry took a step toward global clinical trial data standardization with the publication of the OASIS eTMF Committee Specification Draft V1.0 for clinical trial regulated content management interoperability.
Designed as a standard based upon standards, the OASIS eTMF Specification is designed to facilitate information exchange between clinical trial systems through standard web-based technologies, a controlled vocabulary and a published taxonomy for the clinical trials domain. The OASIS eTMF Specification promises to accelerate clinical trials processes, and will move the industry from manual, paper-based processes to automated fully 100% digital operations. OASIS is a non-profit, international consortium that drives the development, convergence and adoption of open standards. The OASIS consortium has more than 5,000 participants representing over 600 organizations and individual members in 100 countries. Global document system vendor organizations such as Alfresco, EMC, IBM, Microsoft, Oracle and many others are contributors to OASIS and members of OASIS, demonstrating the long-term commitment vendors have made toward interoperable systems and data portability.
To ensure that data is portable between document management systems, the OASIS eTMF Specification utilizes a web standard technology known as RDF/XML. In much the same way that the HTML language is used as the basis for the browsing of internet content through any web browser from multiple browser vendors, RDF/XML is used to publish clinical trial content that can be shared across systems and networks. RDF-based technologies, also known as 'linked data,' are being adopted by a broad group of BioPharma organizations. CDISC, FDA/PhUSE and National Cancer Institute and others involved in BioInformatic systems development are using RDF-based linked data technologies to facilitate interoperability. With the OASIS eTMF Standard Technical Committee's adoption of RDF/XML as the standard for eTMF content and record sharing, BioPharma companies will be able to seamlessly exchange regulated documents with a variety of clinical systems saving invaluable time from study-startup through completion.
In the eTMF systems area, SureClinical is the first eTMF applications software vendor to announce compliance with the draft eTMF specification. With its native support for RDF/XML technologies, as well as integrated eTMF application design, taxonomy and metadata editing, integrated high-trust digital signing and clinical trial workflow automation, SureClinical provides customers with a powerful suite of standards-based tools and capabilities that maximizes productivity, quality and compliance throughout all stages of a clinical trial. SureClinical's cloud-based platform enables users to export, import or exchange structured content between any vendor application that has RDF/XML support, thereby protecting customers from vendor lock-in. To ensure interoperability and data portability, SureClinical's integrated eTMF application taxonomy designer automatically displays metadata terms sourced from published controlled vocabulary repositories such as the National Cancer Institutes' NCI Thesaurus. SureClinical can support display of application terms in any language through its use of localized term display labels.
The controlled vocabulary used in the OASIS eTMF Specification was recently published by the National Cancer Institute's Enterprise Vocabulary Services (NCI) and is available online at the NCI Thesaurus term repository at http://ncit.nci.nih.gov/. NCI Thesaurus is a public term repository used by life science and health care standards globally in systems development. The eTMF Specification Version 1.0 incorporates global technical standards and controlled terms developed by BRIDG (CDISC/FDA/HL7), CareLex, Dublin Core, HL7, National Cancer Institute, the TMF Reference Model, and W3C. NCI Thesaurus repository terms are used by organizations globally such as FDA, CDISC, HL7, ICD-10, SNOMED, WHO and many others as a repository and resource for open source controlled vocabulary development. NCI Thesaurus is an open organization that ensures term consistency and interoperability across domains, and participation and use of the terms are open to anyone worldwide.
Supporting Quote
"SureClinical congratulates the OASIS eTMF Standard Technical Committee members who participated in the development of this important specification, and welcomes the benefits that it will offer all sponsors, research organizations, vendors and stakeholders involved in clinical trial regulated content management," said Zachariah Schmidt, SureClinical's CEO.
OASIS eTMF Standard Draft Specification Download
As part of the eTMF standardization effort toward a global ISO standard for clinical trial data exchange, the OASIS eTMF Standard TC will seek public review and comment on its recent draft publication which is available as a package for free download from OASIS at: https://www.OASIS-open.org/news/announcements/45-day-public-review-for-electronic-trial-master-file-etmf-specification-version-
Comments and Public Contributions Welcome
All interested parties are welcome to contribute or comment on the draft OASIS eTMF Standard specification. Additional information is available through OASIS at: https://www.OASIS-open.org/committees/etmf
For additional details on how the OASIS eTMF Specification can help minimize risk in your clinical trial operations, see the FAQ: http://www.sureclinical.com/oasis-etmf-standard-faq/
About SureClinical
Headquartered in Northern California, SureClinical is the premier provider of health science content management software applications for life sciences and healthcare markets. SureClinical's health science content management solutions enable organizations to eliminate paper through patented integrated high-trust digital signing and automated clinical trial workflows.
SureClinical Cloud Certifications
The technology infrastructure underlying the SureClinical Certified Cloud provides customers with the most comprehensive list of government regulatory validations and certifications in the industry, as well as the infrastructure to support extreme performance, scalability, availability and security needed to run mission-critical, health science specific solutions:
SSAE-16 Type I and Type II Attestation: Support for both SSAE-16 Type I and Type II attestations in conjunction with auditor SSAE 16 Solutions.
HIPAA Business Associate: SureClinical maintains policies and procedures necessary to act as a HIPAA Business Associate for customers whose application maintains data covered by HIPAA regulations.
FDA CFR Part 11 Application Certification: SureClinical's SureTrial eTMF cloud application is independently audited and validated through an ongoing program of continuous validation and certification. These in-depth evaluations of our cloud applications and cloud infrastructure are done against a rigorous set of FDA regulations.
U.S. Commerce Department Safe Harbor Certification: SureClinical's cloud is certified under the U.S Commerce Department's Safe Harbor program, which signifies that the SureClinical cloud employs policies and procedures that meet the privacy standards of the European Commission's Directive on Data Protection. By certifying under the program, SureClinical's customers can be assured that their personal information is private and protected.
For more information, visit http://www.SureClinical.com.
Copyright © 2014 SureClinical. All rights reserved. SureClinical, SureEsign, SureTrial, and the SureTrial logo are trademarks of SureClinical. Other names used herein may be trademarks of their respective owners.
#