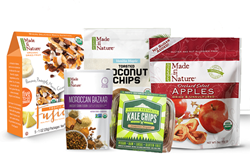 Our new products will continue to raise the bar for great taste and nutrient density without asking consumers to sacrifice convenience.
BOULDER, Colo. (PRWEB) June 26, 2014
Made In Nature today announced the appointment of two new key additions to their management team.
"With the rapid growth and diversification of our product portfolio, we are thrilled to have Brian Ross and Dan Heiges join us as we continue to introduce innovative, new products to the North American marketplace," said Doug Brent, CEO of Made In Nature. "Made In Nature has a longstanding commitment to 100 percent real food made from the finest quality organic fruits and vegetables. Our new products will continue to raise the bar for great taste and nutrient density without asking consumers to sacrifice convenience."
Brian Ross will assume the newly created position of Chief Innovation Officer, where he will be responsible for establishing new distribution strategies, business opportunities, product lines and packaging technologies to fuel the company's growth into the future. Ross brings 20 years of experience and a proven track record of leading innovation at several successful startup companies including Oregon Chai (now owned by the Kerry Group), Izze (now owned by Pepsi), and most recently as the CEO of Cheribundi. At Cheribundi, Ross expanded distribution across natural, conventional and mass-market grocery channels and launched four new product lines into the market place.
"I am delighted to join Made In Nature," Ross said. "I embrace the opportunities that we have to make an impact on the health and wellness of consumers by delivering great tasting, organic products. I feel privileged to have the chance to work on such an inspirational and timely goal."
Dan Heiges will join the team as the VP of New Product Development. With a strong eye on providing "real food" to consumers in convenient ways, Heiges will work with Made In Nature's Development Team to deliver delicious and nutritious organic foods to our customers. With a background in Food Science from the University of Maryland and over 25 years experience in Food Safety and Product Development, Heiges has been responsible for launching or reformulating over 1,000 natural and organic products during his career including the first Certified Organic Product in the State of Texas. Prior to joining Made In Nature, Heiges launched many successful new products for brands including Sprout Foods and Altar Herbal Martinis. Heiges also served as the Director of Research & Development, Quality Assurance and Corporate Standards at Wild Oats Markets.
"This is an incredible opportunity to expand into new categories with innovative products, while at the same protecting the core values set in place 25 years ago by Made In Nature as an organic pioneer,"" said Heiges. "I'm excited for the challenge of spearheading our product development efforts."
Ross and Heiges will work closely with Made In Nature's Marketing, Sales and Operation teams to advance ideation and help shape the company's organic innovation platform across all segments and businesses. Ross and Heiges will both join the executive management committee and will be based in the company's new headquarter offices and test kitchen in Boulder, CO.
###
Made in Nature is a pioneer in organic food with a 25-year history of environmental stewardship, helping to convert thousands of acres of land to organic farming. Many of these farms use renewable energy and provide shade and habitat for endangered species. Today, Made In Nature also serves as a "Food Anthropologist," travelling to find ingredients with true taste of place, ripened at their source and picked at the peak of perfection. By procuring only 100 percent certified organic and nutritious ingredients from a dedicated family of farmers, Made in Nature creates food that is both nutritious and delicious. Made In Nature provides real food and real flavor and never uses sulfur or artificial additives, colors, flavors, genetically modified organisms, preservatives, pesticides, herbicides or fertilizers. The results are some of the most culturally inspired and convenient organic dishes available. Go to http://www.madeinnature.com to view the company's full product line.