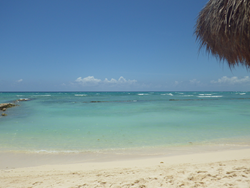 St. Louis, MO (PRWEB) July 14, 2014
Americans are working more hours than ever, and the Dance Pizazz family knows just how important it is to get away. From de-stressing to building new and happy memories, taking some much needed and much deserved time off can be just the thing the body needs to kick-start the quest for balance and wellness. That's why Dance Pizazz, the St. Louis' area funnest and friendliest dance studio (http://www.dance-pizazz.com), is proud to announce its plans for a Mexico Fun Trip!
The date is October 13-16, 2014 and the trip is sure to entice dancers of every level, their family, and friends alike to get on board:

Stay at El Dorado Royal, a Spa Resort that's been voted one of the Conde Nast Travelers' Top 100 Hotels in the world;
Beach front stay in the Riviera Maya, a veritable paradise guaranteed to bring fun in the sun;
Gourmet Inclusive® Experience, which includes 24-hour room service, a private Jacuzzi, dining at seven fantastic restaurants, access to 13 swimming pools, and spa services;
Complementary fruit basket with wine and champagne as part of the hotel's welcome, daily turn down service, concierge services, in-suite complementary internet access, and more!
Dance Pizazz is excited to share this vacation experience with its family of dancers; plus, what better way to practice some new dance moves than in a safe, fun, and exciting environment? Everyone needs a break... and a tan! Go to http://www.dance-pizazz.com or call (636) 441-6854 for details.