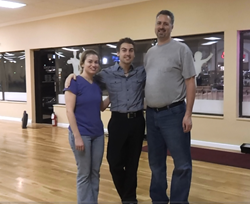 Dancing is a lot of fun!
St. Louis, MO (PRWEB) June 27, 2014
It's a fact: people are now living longer than their parents did. Yet, the effects of aging can bring with them an increased likelihood of life threatening is such an asset in helping stave off the negative effects of aging. Ballroom dance is a proven, holistic approach to exercise, and it's incredibly fun!
Dance Pizazz, St. Louis area's funnest, friendliest dance studio (http://www.dance-pizazz.com), knows about the many positive benefits ballroom dance can bring, such as:
1. Exercise: physical activity has been directly linked with increased life expectancy. Dancing really engages the cardiovascular system, steadily and consistently. This means that a dancer, regardless of their skill level (beginner, intermediate, or advanced), will reap the undoubted and incremental rewards on their health as they also improve their technique through their dance moves.
2. Weight Control: obesity has been linked to a host of life-altering diseases. Performing different types of exercise is a sure way to shed and keep the weight off. Because dancing engages the entire body in a variety of ways, be it engaging the posture for swing, boosting cardio performance through salsa, or improving flexibility thanks to the foxtrot, years of healthy, happy living are added to the dancer's body.
3. Having a fun time: exercise can sometimes be repetitive or too strenuous. But dancing is never dull: from the release of mood-boosters to the challenges that come with learning new steps, dancing is always enjoyable and engaging. The funner the form of exercise, the more likely the body will want to stick to it, which also means consistent, life-extending exercise.
Dance Pizazz knows how dancing can improve fitness and wellness. Check out http://www.dance-pizazz.com to see how people from all walks of life have added made their lives healthier and happier. This is good news, especially for the many more years to come!