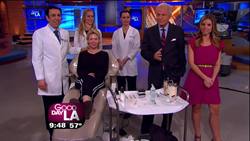 Los Angeles, CA (PRWEB) June 26, 2014
According to a June 9, 2014, article posted on the website of Harper's Bazaar, entitled "What Every Woman Should Know about Retinoids," retinoids soften wrinkles, calm inflammation and acne, and even skin tone. Retinoic Acid (Retin-A), produced naturally when the body metabolizes Vitamin A, stimulates retinoid receptors. These receptors cause cells to reduce inflammation and upregulate collagen production. (see: goo.gl/diTAZ8)
"The article recommends starting with an over-the-counter retinol product and I'm not certain I agree with that piece of advice," says Dr. Simon Ourian, Medical Director of Epione Beverly Hills. "As noted, OTC retinol products aren't regulated, so you don't know exactly what you are getting."
According to the report, it's important for consumers to know beforehand that there will likely be a period of adjustment as their skin becomes accustomed to retinol. Redness and inflammation are common side effects of retinol use. To start, every other day usage is suggested, thus allowing the skin an opportunity to adjust.
"As noted in the article, it is vital to apply sun block daily once you start using retinoids" says Dr. Ourian. "Retinoids thin the outer layer of the skin, making one more susceptible to sun related skin damage."
Dr. Ourian has been a pioneer in laser technology and non-invasive aesthetic procedures including Restylane, Juvéderm, Radiesse, Sculptra and CoolSculpting. These treatments are used for the correction or reversal of a variety of conditions such as acne, acne scars, skin discoloration, wrinkles, stretch marks, varicose veins, cellulite, and others. More information about skin care can be found on Epione's website.