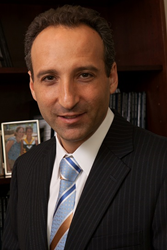 Newburgh, NY (PRWEB) June 27, 2014
The Laser and Cosmetic Surgery Specialists (LCSS) are now offering patients the innovative CoolSculpting procedure, at their Newburgh, New York facility. Dr. Rubinstein's facility was selected as a CoolSculpting consulting & training site by Zeltiq. Patients travel from as far as Manhattan, New Jersey and Connecticut to undergo this transformative treatment. Taking less than an hour, this innovative nonsurgical technique can eliminate over 25% of the fatty tissue in a single treatment area. Additional treatments can often provide near liposuction results. CoolSculpting provides permanent results with little to no recovery period. Once the CoolSculpting procedure is finished, patients are able to return to their normal activities such as school or work. Exercise can be resumed immediately.
CoolSculpting uses Cryolipolysis, or extreme cold temperatures, to freeze deep layers of fat cells. As the temperature drops, the fatty tissue will perish; the body then naturally removes these cells from the area. CoolSculpting can improve contours along the abdomen, flanks, thighs, lower back, arms, and male breasts. During the CoolSculpting procedure, patients are comfortable enough to read, surf the Internet, chat on the phone, and even rest. Many patients will opt to have other services during their CoolSculpting procedure such as Botox and filler injections or other spa services. The full results from a CoolSculpting treatment can be seen as early as 1 month but can take up to four months for final outcome. Should patients opt for a second treatment; the fatty tissue can be further reduced. Multiple body areas are often treated also known as "Treatment to Total Transformation".
Over the last several years, the United States has seen a sharp rise in the number of noninvasive procedures performed. As more advanced techniques become available, a larger number of people are beginning to understand the results these treatments can provide. Dr. Rubinstein explains, "The changes brought by modern cosmetic techniques are subtle, more natural looking, and less expensive than in years past." CoolSculpting is just one example of the rejuvenating, nonsurgical procedures available today.
Dr Rubinstein is the founder of New York's Laser and Cosmetic Surgery Center. Double Board Certified by the American Board of Plastic Surgery and the American Board of Otolaryngology – Head and Neck Surgery, Dr. Rubinstein has over 20 years of medical experience. Dr. Donovan T. Rosas, a board certified plastic surgeon specializes in cosmetic breast & body procedures. Together, they are the only regional practice with sub specialization in surgical and non invasive procedures of the face and body.
To get more information on Dr. Rubinstein's CoolSculpting procedure, contact his office at 845.863.1772. For patient convenience, the Laser and Cosmetic Surgery Specialists is located in the town of Newburgh. Stop by to meet the welcoming, professional staff at either well-appointed location.
Contact:
Ran Y. Rubinstein, MD
Assistant Clinical Professor New York Presbyterian Hospital
Clinical CoolSculpting consultant & trainer for Zeltiq
200 Stony Brook Court Suite 2
Newburgh, NY 12550
845.863.1772
Info(at)YourFaceMD(dot)com
http://www.yourfacemd.com