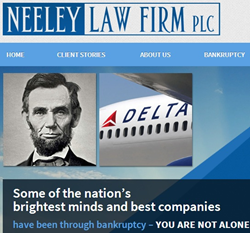 "Sometimes even our nation's best and brightest people and corporations have the need of bankruptcy protection."
Phoenix, AZ (PRWEB) June 27, 2014
Having helped more than 4,000 people navigate the bankruptcy and debt relief process, The Phoenix bankruptcy lawyers at the Neeley Law Firm can offer four guarantees not found anywhere else in Arizona:
Guarantee #1 – A free, thorough analysis of potential clients' financial situation, plus an in-depth presentation of all their options by a Phoenix bankruptcy attorney—not a paralegal. At the end of the consultation, the attorney will give a recommended course of action that will be a path to debt relief.
Guarantee #2 – At the end of an initial consultation, if the potential client feels it was a waste of time, the Neeley Law Firm will give them $20 — no strings attached.
Guarantee #3 – A 15-day unconditional, money-back guarantee* if a potential client is unsatisfied for any reason (*or until the firm files the client's case, if that occurs before 15 days).
Guarantee #4 – The Neeley Law Firm will provide its clients valuable services long after their bankruptcy has been discharged, such as providing them a $1,000 credit score rebuilding program for free, helping them get a car or home, and providing timely articles that will teach them how to use their money wisely in various situations.
The firm's updated website, http://www.neeleylaw.com, gives access to lots of helpful information, including powerful client stories, answers to questions about debt, and an interesting slideshow that reveals that sometimes even our nation's best and brightest people and corporations have had the need of bankruptcy protection—which helps to dispel the outdated stigma that bankruptcy is only for those who are irresponsible.
The Neeley Law Firm is a leading bankruptcy and tax debt help law firm serving clients in Arizona. If you would like more information about this topic, or to schedule an interview with Kenneth Neeley, please call 480-802-4647, or email info(at)neeleylaw(dot)com.