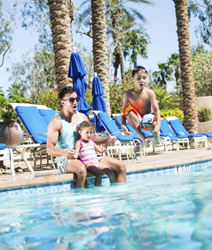 (PRWEB) June 26, 2014
(Greater Palm Springs, CA) – June 26, 2014 - Many Americans will celebrate the nation's birthday by exercising their right to travel, according to Travelocity. The travel authority recently released its Independence Day holiday booking data, revealing Palm Springs as one of the Top 10 destinations in the nation where average hotel rates are below $150 during the holiday weekend. The national average rate for the holiday weekend is $402 according to Travelocity. Palm Springs came in at number 8 on the report and is the only destination in California to make the Top 10 affordability list.
According to the report, the holiday booking data reveals optimistic news for travelers looking to save during the holiday weekend. Greater Palm Springs not only ranks as an affordable destination nationally for the long 4th of July weekend, but also for the entire summer vacation season, thanks to discounted offers for visitors all over the valley with a "Summer Chill" savings promotion.
"Summer is the ideal time to explore everything Greater Palm Springs offers—with savings on resorts and hotels, dining, shopping and attractions," said Greater Palm Springs CVB President and CEO, Scott White. "It is no wonder that visitors from all over the world arrive here each summer to unwind day and night and take advantage of remarkable Summer Chill savings at spas, shops, golf courses, museums and hotels and resorts."
For more information on "Summer Chill" deals, visit http://www.visitgreaterpalmsprings.com/summer-best-served-chilled-in-greater-palm-springs and http://www.visitgreaterpalmsprings.com/palm-springs-hotel-deals.
About Greater Palm Springs
Greater Palm Springs is Southern California's premier resort and golf destination. Discover a place of many experiences and surprises in nine distinctive cities: Palm Springs, Desert Hot Springs, Cathedral City, Rancho Mirage, Palm Desert, Indian Wells, La Quinta, Indio and Coachella. As a respite for mind, body and spirit, Greater Palm Springs is ready to provide you with an unparalleled sense of escape, adventure, recreation, relaxation and your own unique way to play--anytime of the year. Bring the family, a special person or come alone. Find your Oasis. http://www.visitgreaterpalmsprings.com